Have you ever had a premonition? A presentiment of the future of the foreboding variety? 
I had one once when I was 19, and in the midst of a busy school day overtaken that something bad had happened to my mother. I was studying in New York City at the time and about three hours from home. The next day, sure enough, I got a call from my sister that my mother had had a stroke and had been taken to the intensive care unit of the hospital where she was as likely to die as live. 
What is so striking about this premonition is that I'd never had one before. I wish I could describe it– like a pall I couldn't shake until the reality of the premonition coming true jars you out of it. And my mother had rarely been sick when I was younger, so believe me, a seemingly healthy fifty-two year old suffering a stroke wasn't anything anyone could have predicted. 
This week in opera history, Bizet will die on June 3,  1875, just outside of Paris at only36 years of age–of heart failure. While Bizet's death at an early age is common knowledge, what you might not know is that the leading lady who premiered the role of Carmen had a premonition of Bizet's death. When I read about the incident, I could well relate to how she must have felt.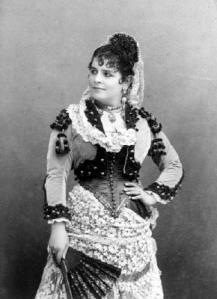 Celestine Galli-marie, who originated the role of Carmen
Parisian born mezzo-soprano Célestine Galli-Marié whose crowning operatic achievement was creating the role of Carmen became close to Bizet over the months of rehearsal. Only months after the show opened at the Opéra Comique in Paris, on the thirty-first performance, she arrived at the theater inexplicably anxious. In the third act, after Carmen foresees her own death in the "Card Trio," she collapsed backstage. Not because something happened to her but because she knew "something dreadful" had happened elsewhere. The next day she learned that Bizet had died the night before. 
Galli-Marié was a difficult performer. Though she hardly originated the prototypical opera diva, she certainly was a standard bearer for the stereotype. Apparently she made Bizet rewrite the "Habanera" thirteen times until it passed muster. Perhaps if she hadn't made him work so hard, he would have lived longer. 
So what causes these premonitions, do you think? According to one site I consulted, premonitions are attributed to the existence of paranormal capabilities and are thought to be "another fragment of the psychic abilities that everybody has, but not everybody may be in tune to applying." Apparently, the most common method to receive a premonition is by way of a dreams, the rationale being that dreams provides us with knowledge our conscious mind does not. 
Neither Galli-Marié's nor my premonition came via a dream. Have you ever had a premonition? Do you know of any other true-to-life opera premonitions?