Today, after an incredibly hectic week which is leading into an equally jam-packed weekend, I was lucky enough to find the time to meet an old, dear friend for lunch.  
If you're like me, when you're with a good friend over a meal, the food takes a backseat to the chance to catch up and reconnect.  This lunch was no different, but the food was such a nice treat that I decided to share it with all of you!
Wendi and I met at Le Pain Quotidien on Greenwich Avenue which I love for its fresh ingredients and abundant vegan menu.  I usually order the scrambled tofu with mushrooms, tomatoes and spicy soy cheese as if on auto-pilot but today the tartines caught my eye.  They are their signature open-faced sandwiches.  I don't normally choose to eat a sandwich but this one sounded great and I was hungry!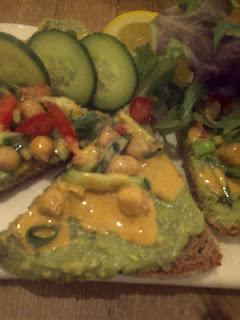 Avocado & chick pea tartine from
Le Pain Quotidien
The one I selected consisted of avocado, spicy tahini and chick peas on top of spelt bread. It was delicious!  If you want to make it at home, here is my suggestion:
2 pieces of your favorite bread (I like something with a good crust)
1 avocado, mashed
2 TBSP of tahini (see recipe below)
1/2 c chick peas
1 tsp diced scallions
8 paper-thin slices of cucumber, round and unpeeled
8 paper-thin slices of radish
For the tahini you will need:
1 cup tahini (sesame paste)
1 cup filtered water
1 TBSP plus 2 tsp freshly squeezed lemon juice
1 TBSP extra virgin olive oil
1 1/4 tsp sea salt
Simply whisk all of the ingredients together well until smooth and serve.  If you refrigerate it, the dressing will thicken so let it come to room temperature again and whisk a bit more before using.
To assemble the tartine:
Begin by toasting the bread and then cut each slice in half on the diagonal.
Spread each piece with the avocado at your desired thickness.
Drizzle with tahini and then sprinkle with chickpeas and scallions.
Lay the sliced cucumber and radish on top and take a scrumptious bite!  Of course, season with salt & pepper as you desire.