Hurricane Sandy slammed into New York last evening, flooding parts of lower Manhattan, Queens, and Brooklyn. Power was cut to millions of residents, and as the new day dawns today, the damage can begin to be assessed. One week from Election Day, the impact of the storm is proving important on the final sprint in the chase for the White House.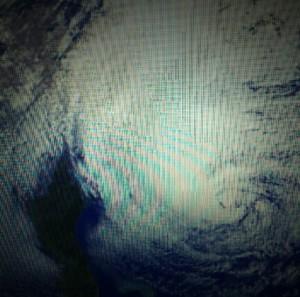 That's a big cloud…
Sandy disrupts the election in a number of ways, causing Obama to return to Washington to manage the disaster, and curbing Romney's events out of sensitivity for the victims. It's also impossible to hear anything on major news regarding the campaigns, besides articles like this one that discuss the impact. Everything is Sandy, Sandy, Sandy.
For many on the Atlantic seaboard, the power outages mean a reprieve from the onslaught of campaign advertising that has become over the top in recent weeks. As people hunker down, and begin to clean up, their attention will be spread between damage assessment and getting things back to normal. It's hardly the time for an attack ad to hit its mark.
The storm has physical implications for voting too. Mail services on hold mean that absentee ballots might have trouble or finding their county clerks. Early voting efforts, central to the Democrats campaign strategy, are impossible under these conditions. Suspended public transit, closed polling stations, and the general desire to stay indoors until the storm passes means that voters will have to be resilient. There is still plenty of time before Election Day, and Election Day itself, to vote, but this is not helping the Democrat's cause.
The Northeast, along with California, is America's liberal bastion, a place with highly educated populations mixed with heavy immigrant areas. Getting slammed by Sandy doesn't mean that anyone will change their vote, and thanks to the screwy Electoral College system, if not every Democrat makes it to vote in those areas, Obama will still get the delegates from the states he is forecast to win.
Either way, it seems like most of the residents in the area were spared the loss of life and limb, and for that we are thankful. Experience from last summer's Hurricane Irene, which failed to do much damage but demanded extensive evacuations, prepared the major eastern cities.