Upcoming Presentations
Oct 28th:

Hayduke Trail Presentation, Mazamas Mountaineering Center @7pm(FREE)
Nov 7-8:

Hayduke/GDT Presentations Oregon Trails Club Weekend Backpacking Seminar ($50 for seminar)
Dec 7th:

Hayduke Trail Presentation, REI Portland (*Registration coming soon)
Dec 14th:

Great Divide Trail Presentation, REI Portland (*Registration coming soon)
Jan 6th:

Great Divide Trail Pesentation, Mazamas Mountaineering Center @7pm(FREE)
If you read
my last post
, you know that I am NOT a happy camper in regards to the content and quality Backpacker Magazine has released in this month's women-centric package. Overall, the presentation has come off as fluff with very little depth or content. I know, that is to be expected from Backpacker Magazine, but it's the sometimes insulting, demeaning, and condescending tone that has me shaking my head and speaking up.
Last week, I felt that there was hope when I spoke to an editor about my concerns, and she agreed to revise the exclusively online article that I contributed to, "
18 Tips From Female Solo Hikers
." I want to commend Backpacker on this revision. The content was increased from 7 to 18 tips, all the contributors' blogs were linked for readers seeking additional information, and a more thorough introduction was included with links to further content. Overall, a much more quality posting than the original and I want to thank Backpacker for hearing my concerns and making those revisions. A nice step in the right direction...
Well, then they took a nice big step back the wrong direction just hours later when this was posted...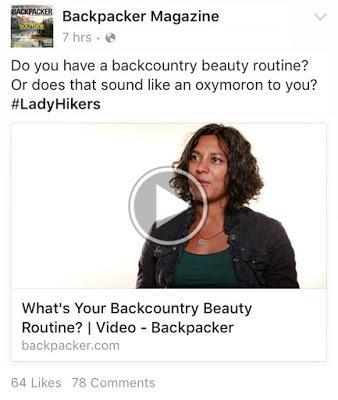 Yep, once again, this is the genius they come up with when they get a chance to interview some of the leading women in outdoors today. I will say, they haven't all been terrible with the others addressing
being and outdoor mom
and pumping while out on the trail. I still wish they would ask them things like how they got started, where they learned their outdoor skills in general, and how the outdoors inspire them. Maybe that's still to come...
Over the past week, I've seen these posts come up, and unfortunately, the okay posts have not erased the images and words of the NOT okay posts. One in particular that has irritated me and many of my friends is one that is in the print copy of the magazine and yet to be released online. It's an article on how the big strong and capable man can take his inexperienced, naive, and helpless little lady on her first backpacking trip.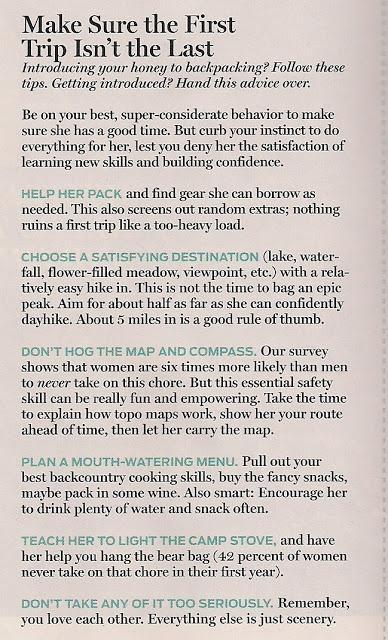 An article from Backpacker Magazine, Oct 2015
I understand that Backpacker's targeting the novice hiker and backpacker and that's understandable. My discomfort stems from the low quality content that is often patronizing and reinforces outdated images and preconceptions of women and their abilities. I do want to be fair and mention that some topics are of value and that there is an attempt to balance the downright idiotic with more respectable topics like the need for more female outdoors leaders and an essay on the impact Girl Scouts can have on young girls.
Backpacker has missed the mark big time on this one. They had such a chance to inspire and motivate women and it came off as fluff. Sadly, I cannot shake some of the images I've seen from them and I no longer want any part of it. I also noticed that in the magazine, just pages after the article about the need for more female outdoors leaders, there was a 1/4 page ad for a website that sells sex toys...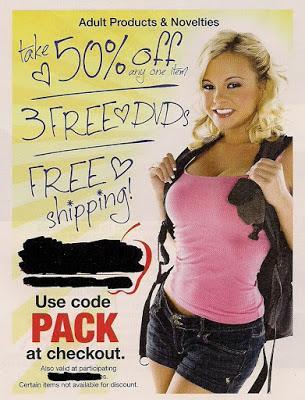 This ad is in Backpacker Magazine just pages after the Women & Backpacking layout.
I bet you never expected to see this kind of image on my website. Well, I never expected to see it in Backpacker Magazine. It doesn't sit well does it? Well, it didn't for me and it gave me a stomach ache. I then cancelled my subscription to Backpacker, which I get FREE through my PCTA membership. Yep, it's that bad that it's free and I still don't want it. I bet somehow my membership dollars are going to Backpacker Magazine and I'll be sure to make sure it doesn't before I renew with the PCTA again. It's a quick phone call (800) 666-3434 and I was able to tell them why I cancelled. In addition, I noticed letters to the editor can be sent to
[email protected]
. Backpacker Magazine may not change because they lose a few subscriptions, but I'm sure not going to be part of the cycle to keep it going with this content.
Those of you seeking a worthwhile outdoor magazine that's free online, I suggest
subscribing to TrailGroove
. A beautifully done online magazine that is a treat for the eyes AND has quality content about all kinds of hikes, backpacking, outdoor skills, gear, and more. TrailGroove is growing fast and I wouldn't be surprised if I see it in print on newsstands someday. Their
latest issue just came out today, so check it out
!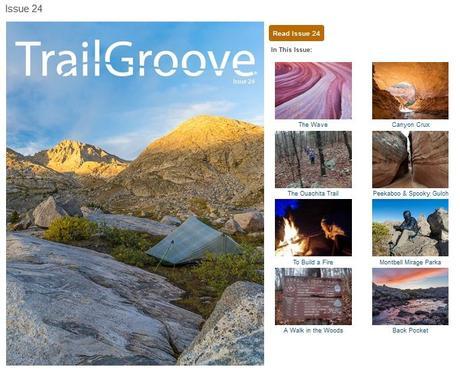 I've written a couple articles for TrailGroove and will have a few new ones coming out early next year focusing on some of my hikes from this past summer. Here's an interview I did with TrailGroove before heading out the Appalachian Trail and another one reflecting on my growth from my Appalachian Trail experience (especially proud of that one).
Ok, I'm dropping the mic on this one and hiking away...Wired out!