I've decided to write this post, in a hope of gaining some insight and opinions from you as to what your thought is on One-Shouldered!
Because, quite frankly, my other half LOATHES them. Whether it's a dress, top, jumper, coat, jacket, whatever; if it doesn't have a pair of shoulders, or none at all, then he curses the very thought of it.
I looked further into this; okay, so you don't like them? Surely a beautiful print, luxurious fabric or intricate embellishment would win you over, one shouldered or not?
But NO, here's an example:

"
Oh look Emily, what a lovely frock! "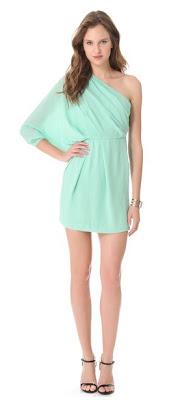 "

AAAHHH get it away from me!! She's missing an arm! "


(Dress Diane von Furstenberg)

So today, when I wore a one-shouldered number, I was attractive to him for a brief moment while he slid into the passenger seat and I was side on; until I turned around, and it must have been like when Harvey Dent turn's his face round in The Dark Knight to reveal half of his face missing...

Anyway, I personally think that one-shoulders can look fabulous! Especially heading up to Spring/Summer, barbecue's and drinks and a lovely shoulder out. Just try to stay away from Kingsley and you will look and feel fabulous!

Just to finish, I love this Mango Butterfly one, available on ASOS!


What do you think about One-Shouldered clothes?