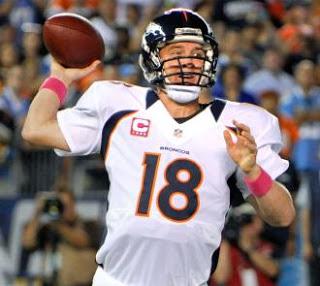 Photo: AP Images
- Troy Ballard
To think:
- People said Peyton Manning wouldn't be the same in 2012.
- There were talks that he had a 'noodle arm' — that's you, Bill Simmons.
- That without Tim Tebow, this Denver Broncos team would hardly break .500 and miss the playoffs.
- That the San Diego Chargers were clearly the best team in the AFC West.
- Denver was down early on MNF, in San Diego.
- The score went from bad to worse, and Manning entered halftime down 24 points against a red-hot Chargers team.
- And somehow, through it all, Manning engineers a comeback for history and wins the game by scoring 35 unanswered points.
- The defense in Denver did it's part, and credit should be given.
- But one thing is unequivocally true: Peyton Manning is still for real.
- Doubters need to stop.
- Believers need to start.
- This Denver team, regardless of preconceptions is here to play.