Only one more sleep until New York Comic-Con 2012! I'm really excited to attend the event for a third year and this year continues to bring excellent artists, celebrities and entertainment to the east coast. There's a lot of movie footage premiers and television guests that are showing up and here are some of the panels I'll *try* to be covering on my days at the venue. There are also exclusive movie posters from Spoke Art, Acid Free, and Mondo that I would love to get. As well as a few autographs I didn't list here.
THURSDAY, OCTOBER 11th
This will likely be a day where I take a ton of pictures and try out some of the latest video games. I'll be bringing my camera so I hope to get some HD footage of the convention to share.
FRIDAY, OCTOBER 12th
Aniplex of America

11:15 am – 12:15 pm
Location: 1A21
Speaker: E.J. Rivera
Description:
From the company who brought you the best in Anime including Durarara!!, Fate/Zero, Puella Magi Madoka Magica, Gurren Lagann and Blue Exorcist to name a few. Ask any fan to name his or her favorite anime show and chances are likely that it's an Aniplex produced show. From the Latest Anime to Special Announcements, come and see what Aniplex of America has in store for 2012 and beyond. Join us as we talk about their current works and answer your questions. There will also be some special giveaways including rare items from Japan.
2:00-4:00 — Brian K Vaughan (Saga, Y: The Last Man, Ex Machina, Runaways) and Fiona Staples  (Saga, Mystery Society, Northlanders, Jonah Hex) Autograph
Location: Midtown Comics Booth
Silent Hill: Revelation 3D

4:00 pm – 5:00 pm
Speakers: Adelaide Clemens, Kit Harington, Michael J Bassett, and Samuel Hadida
Description:
Global exclusive! Be among the first in the world to see footage from the movie based on the groundbreaking video game franchise, Silent Hill: Revelation 3D is the sequel to the hit film Silent Hill. Experience footage from the unparalleled horror experience starring Kit Harington (HBO's Game of Thrones) and Adelaide Clemens (X-Men Origins), directed by Michael J Bassett.
Rose of Versailles Anime Screening
5:30 pm – 6:30 pm
Description:
North American anime distributor Right Stuf announced on Wednesday that it acquired TMS Entertainment's classic historical shōjo anime The Rose of Versailles, and the company licensed the right to stream the anime to the online video site Viki.

The story is set in the intrigue-filled court of Queen Marie Antoinette before and during the upheavals of the French Revolution. Lady Oscar is a young woman raised as a man to serve in the palace guards.
SATURDAY, OCTOBER 13th
Batman: The Dark Knight Returns, Part 2

12:15 pm – 1:15 pm
Speakers: Andrea Romano, Bruce Timm, and Gary Miereanu
Description:
Witness the first public display of footage from the epic conclusion to the animated version of Frank Miller's landmark graphic novel as Warner Home Video presents an NYCC-exclusive panel on Batman: The Dark Knight Returns, Part 2, the next entry in the popular, ongoing series of DC Universe Animated Original Movies. Executive Producer Bruce Timm, dialogue/casting director Andrea Romano and a few exciting guests will discuss the making of the film and show some tantalizing clips. Warner Home Video's Gary Miereanu will moderate the panel, award unique DCU-themed prizes, and offer a glimpse into the 2013 slate of DCU animated films. Batman: The Dark Knight Returns, Part 2 is produced by Warner Premiere, DC Entertainment and Warner Bros. Animation.
Beautiful Creatures

3:00 pm – 3:30 pm
Speakers: Alden Ehrenreich, Emmy Rossum, Kami Garcia, Margaret Stohl, Richard LaGravenese, Thomas Mann, and Zoey Deutch
Description:
Alcon Entertainment's "Beautiful Creatures" is a supernatural love story set in the South which tells the tale of two star-crossed lovers: Ethan (Alden Ehrenreich), a young man longing to escape his small town, and Lena (Alice Englert), a mysterious new girl. Together, they uncover dark secrets about their respective families, their history and their town. The film is based on the first novel in the best-selling series by Kami Garcia and Margaret Stohl.
Carrie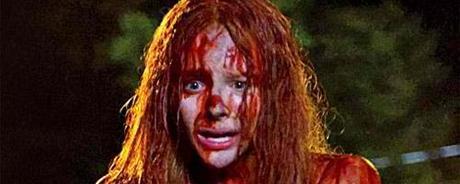 3:45 pm – 4:15 pm
Speakers: Chloë Grace Moretz, Julianne Moore, Kevin Misher, and Kimberly Peirce
Description:
A reimagining of the classic Stephen King horror tale about Carrie White (Chloë Grace Moretz), a shy girl outcast by her peers and sheltered by her deeply religious mother (Julianne Moore), who unleashes telekinetic terror on her small town after being pushed too far at her senior prom. Based on the best-selling novel by Stephen King, Carrie is directed by Kimberly Peirce with a screenplay by Roberto Aguirre-Sacasa. Appearing in person: Chloë Grace Moretz, Julianne Moore and director Kimberly Peirce. Please join all of us from Screen Gems to ask questions and see exclusive footage.
Evil Dead

4:15 pm – 4:45 pm
Speakers: Bruce Campbell, Fede Alvarez, and Jane Levy
Description:
In the much anticipated remake of the 1981 cult-hit horror film, five twenty-something friends become holed up in a remote cabin. When they discover a Book of the Dead, they unwittingly summon up long-dormant demons that possess each of those friends in succession until only one is left intact to fight for survival. Appearing in person: Producer (as well as the original Ash himself)Bruce Campbell, star Jane Levy (TV's Suburgatory) and director Fede Alvarez.
The Walking Dead

5:00 pm – 6:00 pm
Speakers: Andrew Lincoln, Chandler Riggs, Chris Hardwick, Danai Gurira, David Morrissey, Gale Anne Hurd, Glen Mazzara, Michael Rooker, Norman Reedus, and Robert Kirkman
Description:
Join Andrew Lincoln and the cast of "The Walking Dead" along with showrunner and executive producer Glen Mazzara and executive producers Robert Kirkman and Gale Anne Hurd to discuss the highly anticipated season 3 premiere. Additional cast include Norman Reedus, Chandler Riggs, Danai Gurira, David Morrissey and Michael Rooker. Moderated by "Talking Dead" host Chris Hardwick, "The Walking Dead" panel will also include an exclusive clip from the premiere episode, which returns to AMC on October 14 at 9/8c.
FIREFLY 10th Anniversary Special Event – First Look

6:15 pm – 7:15 pm
Speakers: Surprise!
Description:
It has been 10 years since the crew of the SERENITY took flight in Joss Whedon's short-lived but now infamous show FIREFLY. Science Channel will give New York Comic Con an exclusive sneak peek at their 10th Anniversary Special Event making its world premiere on 11/11/12. From behind-the-scenes with those directly involved to never-before seen footage, Science Channel is going to have something for both old and new fans alike. Captain 'Mal' Reynolds and the crew from the ship are calling all BROWNCOATS to unite at the 2012 New York Comic Con. Special surprise guests and exclusive New York Comic Con giveaways are just the beginning. SHINY.
[images and format courtesy of Collider]