Recently, a friend tasked me to tour his parents around in Kuala Lumpur. Like a lot of Filipinos, they did a three-day Singapore swing, leaving a day for Malaysia's capital. Given the time constraint, I had to create an itinerary with more time for actual touring than dillydallying, bearing in mind though that my guests can only walk so much. Read more…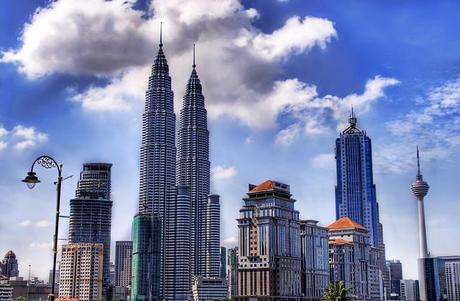 Photo credit: stuckincustoms
ONE DAY KUALA LUMPUR ITINERARY
Meeting point and time: Old Town White Coffee Brickfields near KL Sentral / 7:00 AM
Number of people: 3
7:00 AM -  7:30 AM Breakfast at Old Town White Coffee
7:30 AM -  8:15 AM KTM Komuter to National Mosque; Stop at KL Old Railway Station
8:15 AM -  8:45 AM National Mosque (Masjid Negara)
8:45 AM -  9:00 AM Walk to KL Bird Park
9:00 AM - 10:30 AM KL Bird Park (Taman Burung Kuala Lumpur)
10:30 AM - 10:45 AM Walk to Islamic Arts Museum Malaysia
10:45 AM - 11:30 AM Islamic Arts Museum Malaysia
11:30 AM - 12:00 PM Travel to Central Market
12:00 PM - 12:30 PM Lunch at Central Market
12:30 PM -  1:45 PM Shopping at Central Market (Pasar Seni)
1:45 PM -  2:00 PM Walk to KL City Gallery
2:00 PM -  2:45 PM KL City Gallery
2:45 PM -  3:00 PM Merdeka Square (Dataran Merdeka)
3:00 PM -  3:30 PM Taxi to KL Tower
3:30 PM -  4:30 PM KL Tower (Menara Kuala Lumpur)
4:30 PM -  5:00 PM Taxi to Kuala Lumpur City Centre (KLCC)
5:00 PM -  5:30 PM Snack at Madam Kwan's Suria KLCC
5:30 PM -  7:00 PM Shopping at Suria KLCC and Avenue K
7:00 PM -  7:45 PM Dinner at Nasi Kandar Pelita
7:45 PM -  8:15 PM Petronas Towers
8:15 PM -  9:00 PM LRT to KL Sentral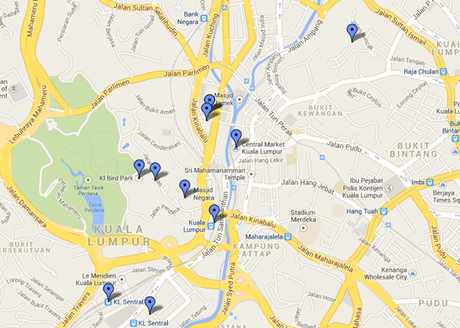 An interactive map of the itinerary above is uploaded on Google Maps. For more information on the stops above, check out the following links:
Discovering Kuala Lumpur: Must-Do and Must-Visit
Malaysia on a Budget: Our Walking Tour of Kuala Lumpur
ONE DAY KUALA LUMPUR BUDGET
Conversion rate: 13.89 PHP = 1 MYR / 100 PHP = 7.20 MYR
MYR PHP
Breakfast at Old Town White Coffee 12.00 166.68
KTM Komuter (KL Sentral to Kuala Lumpur) 1.00 13.89
KL Bird Park Entrance 48.00 666.72
Islamic Arts Museum Malaysia Entrance 14.00 194.46
Metered Taxi to Central Market (split into three) 2.00 27.78
Lunch at Central Market 12.00 166.68
Metered taxi to KL Tower (split into three) 4.00 55.56
KL Tower Entrance 49.00 680.61
Metered Taxi to Kuala Lumpur City Centre (split into three) 2.00 27.78
Dinner at Nasi Kandar Pelita 12.00 166.68
LRT to KL Sentral 3.00 41.67
TOTAL 159.00 2208.51

This year is Visit Malaysia Year 2014 with the theme, "Celebrating 1Malaysia Truly Asia." Visitors can expect a series of year-long special events and activities. For more updates on VMY 2014, check out tourism.gov.my and like Tara Na Sa Malaysia on Facebook.