This Devils Food Cake is moist and airy. It is the perfect cake to serve for Michaelmas Day.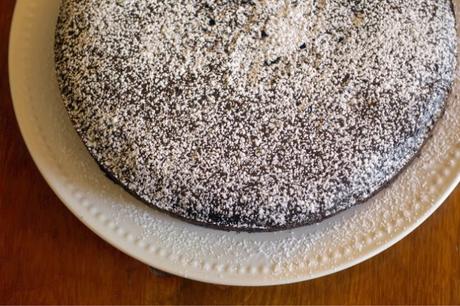 Today is the Feast of the Archangels Michael, Gabriel and Raphael.  Michael fought against Satan. Gabriel told Mary she would be giving birth to Jesus. Raphael is the archangel who took care of Tobias on his journey. All three are beloved.
I love to serve this cake on Michaelmas day. It is tongue in cheek to the devils theme. This may be a no brainer, but make sure your bowl is microwave safe, and can hold all your ingredients comfortably. You can store this cake at room temperature covered in its pan for up to three days. This cake also freezes wonderfully. It will keep for up to a month, if you ensure that it is wrapped tightly with plastic wrap and then foil.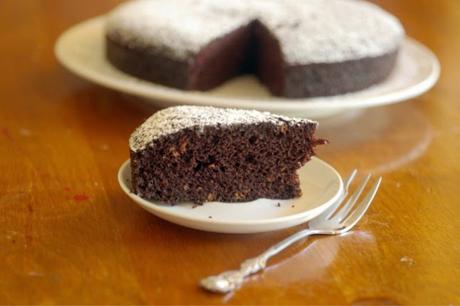 Print Recipe
One bowl Devils Food Cake
Ingredients:
5 tablespoons butter
1/2 cup cocoa powder
2 teaspoons strong coffee
1 cup brown sugar
2 large eggs
1/2 cup hot water
1/2 teaspoon baking soda
1 1/2 teaspoon vanilla extract
1/4 teaspoon salt
3/4 cup all-purpose flour
1 tablespoon powdered sugar
Directions:
1.Preheat oven to 350 degrees
2.Spray a 8 inch round baking pan with cooking spray
3.Place butter in a large microwave-safe bowl and microwave for 1 minute on high. Add cocoa and coffee stir well with a whisk. Add brown sugar and eggs and water. Stir with a Whisk until smooth. Stir in baking soda, vanilla and salt. Gradually add flour and stir to just blended.
4.Pour batter into prepared pan and bake for 25 minutes or until a toothpick inserted in the center comes out clean. Cool for 10 minutes on a wire rack. Sprinkle with powdered sugar. Cut into wedges and serve warm or at room temperature.
Peace be with you,
Veronica