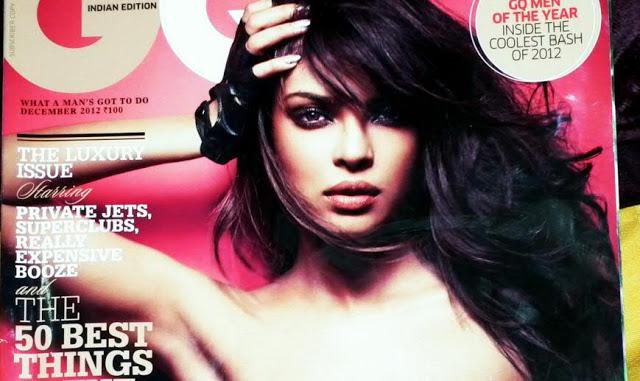 GQ India December 2012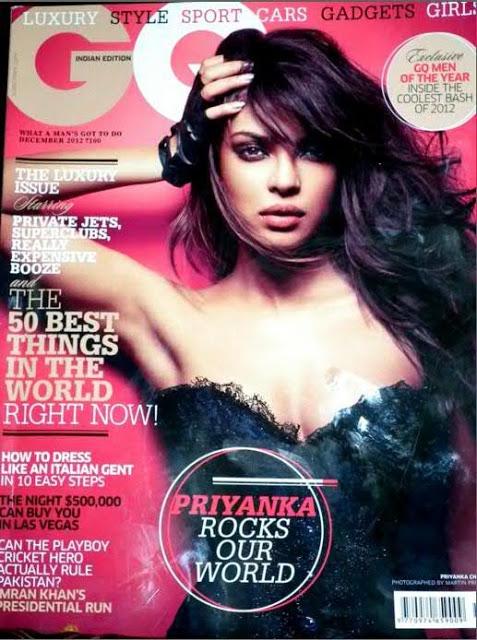 GQ India December 2012
Who
Priyanka Chopra
What is She Wearing?
Lace Corset by Agent Provocateur; Leather Gloves by Beyond retro 
We received our GQ November edition quite late, a month late. So when I received GQ November in December I jumped with a joy thinking I received December edition, and ON-Time. I did not even check the month on the cover and started flipping the pages before V did because this subscription is for V. 
The next day, doorbell rings and we get another GQ and this time prettier cover page with pink and Priyanka Chopra with all black. Trust me, I have an instant girl crush on her and I was happy like a BFF that she was not sporting her bangs/fringes here. I think she should get rid of those fringes. whatever!! She looks utterly-butterly-delicious here. Nothing fascinates me more than a girl sporting an extremely chic/seductive/sexy piece with sporty/tom-boyish accessories or vice versa. So now you know why I fell for her!! 
Lace Corset + Biker Glove = Oozing Confidence
❤
Comment
❤Follow via GFC
❤Subscribe for Posts Update
❤Share
❤
=====================================================
Disclaimer:
For any queries, PR information, website review, store visit and events - please mail me at
shoppingstyleandus@gmail.com
. Read about Shopping, Style and Us and to know more, please read my
Disclosure Policy
.
Jiya (Shoppingaholic)