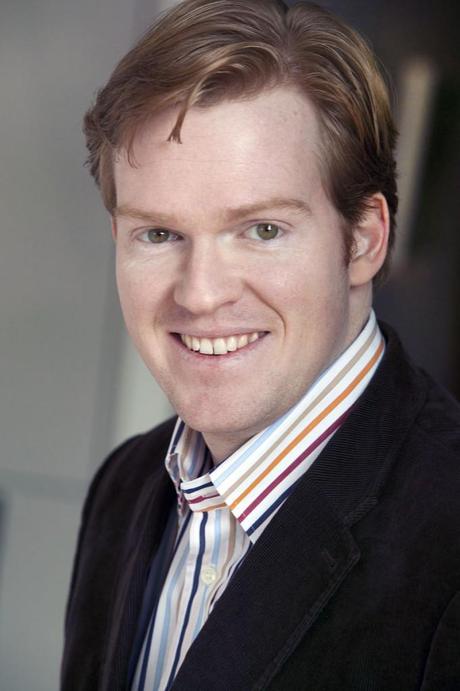 Australian baritone Andrew Finden
Australian baritone Andrew Finden is an accomplished young performer– a Samling Scholar, Britten-Pears Young Artist, and an alumni of the International Vocal Arts Institute's Tel Aviv Summer Opera Programme.
He recently obtained a Master of Music with Distinction on the Opera Course at the Guildhall School of Music and Drama, where he was awarded the Harold Rosenthal Prize.
He's also an Australian expatriate–since the beginning of the 2011/12 season Andrew has been a member of the ensemble of the Badisches Staatstheater Karlsruhe, where his roles include Marullo (Verdi's Rigoletto), Count Oscar (Offenbach's Barbe-Bleu), Masetto Mozart's Don Giovanni) and Clito (Handel's Alessandro).
He's also an opera blogger, which I believe is how I found him. And he has red hair, like two of my siblings, so I always notice that–it's a family of origin thing.
He has a compelling and brave story about pushing himself to master his craft, living far away from his beloved homeland.
Welcome to Operatoonity, Andrew! (Or should I say, Wilkommen?)
Can you tell me a little about your childhood? How did you grow up and how did it affect your decision to sing opera?
I grew up in regional Queensland and went through the public school system – had a great music programme. I learnt violin for most of my school years. Being part of a local church where youngster were encouraged to participate in the music of the services, I had lots of chances to sing and play. When I was around 12 y.o. I entered a local Eisteddfod and the adjudicator was the head of the music department at the University of Southern Queensland, and he encouraged me to get lessons, which I did, and subsequently took the part of 3rd Boy in the USQ production of The Magic Flute the next year. That sold me.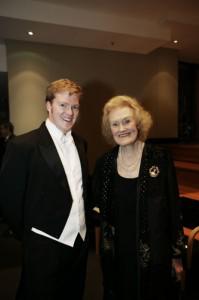 Andrew with Dame Joan Sutherland, a few years back (photo by Paul Gosney)
Have you liked performing in Karlsruhe this season? How long will you stay in Germany?
I've very happy here in Karlsruhe. It's a great theater, great orchestra, and an exciting ensemble to be in right now. I'm hoping to stay in German for the foreseeable future, as it is still the biggest market for opera.
What has been the greatest thrill in your career thus far? Greatest challenge?
I'm still an 'anfänger' (beginner) in this system, and only just starting to take on bigger roles – which is how it should be btw, one learns so much from the smaller roles! – and oddly enough most of my larger parts have been in operette, which is both fun and scary, particularly speaking German dialog for Germans. One of my best experiences so far was a summer programme I did in Tel Aviv (IVAI) where I played the role of Mr. Brook in Mark Adamo's opera Little Women. It was perhaps the combination of the time and place and the piece itself, but we all began to really feel a bit like the March family. Mark also came over and worked with us – to be working personally with the composer of one of the most performed contemporary operas was fantastic.
Do you have any favorites? Composer? Opera? Role? Venue?
I did a performance of Le nozze di Figaro in Montepulciano, with the Nuremberg Music Hochschule. The little theater there is, I'm told, a minature La Scala, and still has a lot of old stage equipment, and the old-style unpainted boards. It was perfect for Figaro, which is probably my favorite opera, if I'm forced to pick one. I'm also a very big Britten fan, and it's no secret that I would love to sing Billy Budd down the track a little.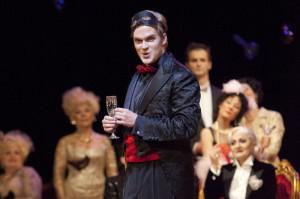 As Dr Falke in Fledermaus in Nuremberg (photo by Jutta Missbach)
Do you miss Australia? Any desire to come to the States?
Yes and yes. I do miss Australia, my family and friends.  . . . the weather! I'd also love to go the States to sing and look around.
Are you *now* fluent in German? What's your favorite repertoire?
I'm conversational. I hesitate to say 'fluent' because I still mess up most of the grammar, and just guess the articles, but I can hold conversations and understand mostly what people are saying. I have very patient and helpful colleagues in that regard! I am interested in German repertoire, though being a lyric baritone, there's actually not that much of it. Karlsruhe has a strong Wagner tradition and focus, and so I'm slowly getting exposed to that whole world, even if I can't sing any of it. There are few lyric Strauss roles I'd be up for, but for now it's mainly  Mozart, Rossini, Donizetti & of course, Britten.
Where would you like to be in five years? In ten years?
Singing good repertoire with good colleagues at a good level.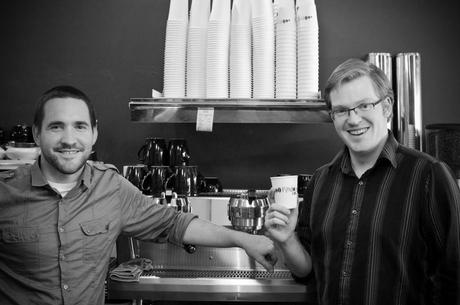 Andrew with his friend Tim, who runs Findo's Cafe in Toowoomba QLD, named after him
What is something most people don't know about you, something not on your professional bio?
My friends know this – I'm a coffee snob. In fact, a good mate of mine named his cafe after me (Findo's Cafe in Toowoomba, QLD), as I'm aparently to blame for his own love affair with the good bean.
* * *
For more information about Andrew, visit his website.  He blogs at Andrew Finden // Baritone. You can also follow him on Twitter at @Findo!