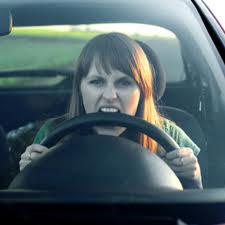 Here's the thing, when ever someone in front of you is driving badly, stop and remember that he or she is part of the Great Source to which we all belong. Imagine him being your dad, or brother or husband. Suddenly your attitude will change. 
Since we're all connected to one another, we should be kind to one another. I know one thing for sure, when ever I've been crazy angry toward another driver to the point of road rage, it has only hurt me. My blood pressure would rise - not good, my throat would hurt from shouting - not pleasant (childish I might add), my entire body would be stiff with stress - quite uncomfortable and not very healthy. 
It came a time when I had an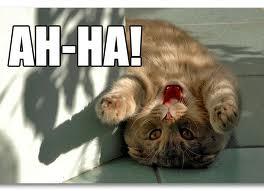 MOMENT!
I made a list of top five reasons I sometimes drive badly myself:
I need to reach my child and I am late.
I am suffering from a bad headache or migraine.
Something terrible occurred in my life and I am distracted.
Someone hurt my feelings and I am lingering in the emotions.
Extremely tired from a hard day's work.
Since, I have taught myself to not fall victim to all these state of minds and be more in control, specially when I am driving. But now, when I encounter anyone driving badly in front or side of me, I readily assume he or she is going through one or more of the above.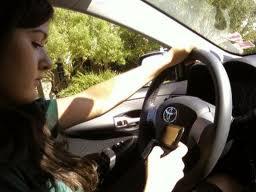 The only thing I don't accept is texting and driving!
No excuse there people, we've heard enough sad stories about texting and driving and getting into accidents. 
STOP texting and driving. 
BE relaxed in your life and patient enough to wait until you've stopped to contact someone or text. What ever it is, can wait. Really think hard, it really can wait and isn't worth risking your life and someone else's.
Put your phone device on the back seat or in your bag. Will keep you from reaching it. Use the time in your car as your quiet, ME time. Go ahead, take a break from your day, put on your favorite CD and enjoy the drive. Forget about the calls, the messages you ache to send.
STOP drinking and drivingSTOP texting and drivingSTOP running the yellow light, I know it's a pretty color
I was stuck in the traffic that beautiful Sunny Saturday morning, with my friend, her daughter and mine wondering, what could be the cause of this horrendous traffic like we've never experienced before. And then we found out:
A 9-year-old girl burned to death and her mother was severely burned when their car overturned and burst into flames on the Ventura Freeway (101) on Saturday morning.

The accident occurred about 8:30 a.m. in the eastbound lanes of the highway near Las Virgenes Road, according to a California Highway Patrol officer Ed Jacobs.

The accident forced the closure of all eastbound lanes for an hour. One lane is now open but the rest of the eastbound lanes will be closed until early afternoon, Jacobs said. Traffic is now backed up for several miles.

The mother apparently rear-ended a big rig, then lost control of her car. It overturned and burst into flames, Jacob said. The mother was able to crawl out of the vehicle, but could not rescue her daughter, he said.

The mother was flown to UCLA Medical Center with burns over 80% of her body.

I still feel for that mother.