Last night, it was raining. It was late. I was tired, sick, and not hungry. I had just played at an office basketball game, so we hadn't had dinner. We were brainstorming for a good place to pass by for dinner and I remembered that there's an Omakase just along C5, and hey, it's always time for sushi.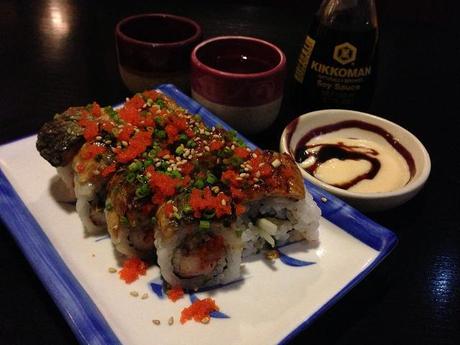 Jurassic Maki, P305.00
ebi tempura, ebiko, salmon skin, cucumber inside with unagi on top.
We were the last customers to enter, so we wasted no time in selecting our sushi. Alvie's usual "What's the bestseller?" approach led us to this, and it was indeed good. I might not be the best judge though, because I
love
sushi and it is my top one favorite type of food. As long as the rice is Japanese and the ingredients aren't horrible, I'd happily eat up any kind of sushi. I especially like Omakase's fusion-type selections and the stylish Japanese mayo/Kikkoman dip. I really like the crunch and the fishy skin and roe taste in this one. I only ate half and saved the rest for last. Omakase also serves service tea, as in the picture, upon request. :)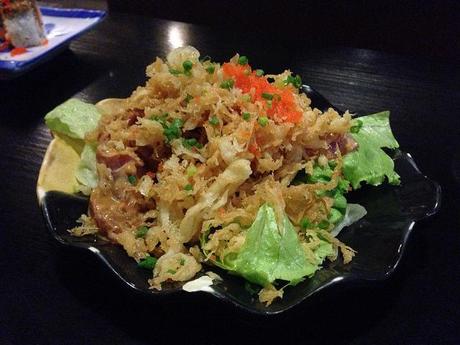 Spicy Tuna Salad, P230.00
raw cubes of tuna with spicy salad dressing.
All things good are in this dish. It's spicy, it's crunchy, it's creamy, it's fishy, and it's raw. We always love tuna sashimi salad like this and this was very addictive. This is so good, I think it deserves more than to be called a 'salad'.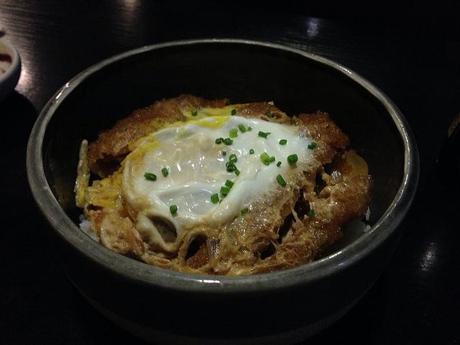 Katsudon, P180.00
pork cooked in sauce with egg, onions, and scallions.
I love Katsudon, and this was okay, but there are many versions I like better. I prefer Komoro Soba's and even Karate Kid's version because they are tastier and livelier. This
was
 the cheapest food we ordered that night, and most budget-friendly, at the least. I focused on finishing this first so I could focus on our two yummier dishes that night. All the food was definitely a good pick-me-up, washed down with a sweet, rejuvenating Coke (P55).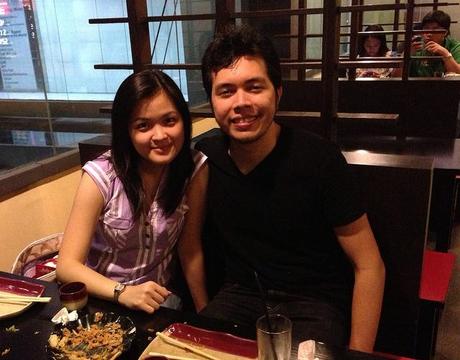 Still tired, but now morally and spiritually uplifted. Haha.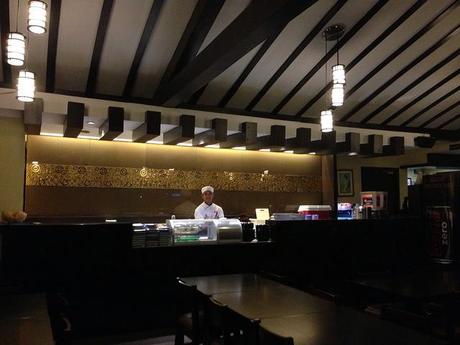 We got there only fifteen minutes before closing, so thanks for nicely accomodating us!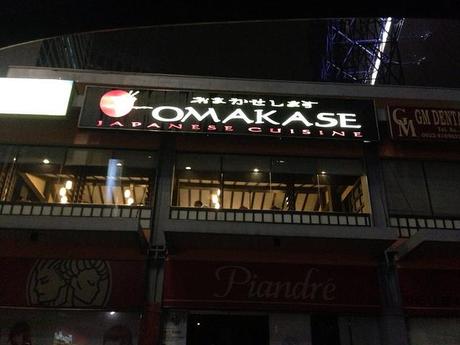 I wish parking was a bit easier for this hidden little gem near Eastwood.
Verdict:
Jurassic Maki: Good
Spicy Tuna Salad: Great!
Katsudon: Okay
I love sushi, and Omakase will always be a primary choice for any craving because I love all their different kinds of modern sushi. Sushi is expensive, but at least here, I feel that it is worth what I am paying for.
Love Omakase? Hate it? Let me know by commenting below, or just
tweet
me!

OMAKASE
Unit 207 Intrepid Plaza Bldg., E. Rodriguez Jr. Ave.
Libis, Quezon City
(02) 437-0075
Operating Hours: 
Mon - Sun: 11:30 am - 2:30 pm, 5:30 pm - 10:00 pm
Facebook: Omakase
View Larger Map