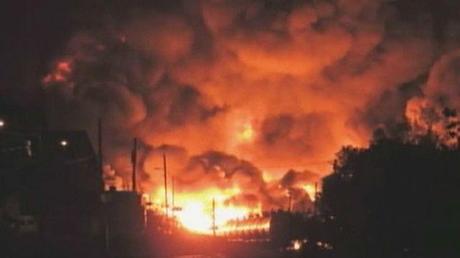 From the EF! Newswire
A 76-car Freight Train carrying crude oil derailed sparking several explosions in Lac-Mégantic, Quebec early on Saturday. So far, the explosions and ensuing fires have destroyed 30 buildings within the town center. Several people are reported missing, feared dead. 
At least four of the train's cars exploded at 1 AM, sparking a chain reaction. 100 firefighters were on the scene, but the fire continued to burn. The Mayor held back tears as she explained, "We have deployed all resources to ensure that we can support our citizens."
Shipments of petroleum by train increased 46 percent in the US during 2012.
Oil companies are currently seeking permits to construct the largest crude oil shipping terminal in the Pacific Northwest in the town of at the Port of Vancouver, WA. The terminal would receive trains from up the Columbia river which would transport about 380,000 barrels of oil per day.
Oil production, largely derived from the Bakken Shale in North Dakota, hit the sharpest spike in decades in the years 2011 and 2012. Concomitant with this increase of oil production is the rise of sexual assault and violence, as oil workers invade small towns looking for a good time. Judging by this "male dystopia," the jobs-jobs-jobs agenda stinks with the residue of structural misogyny and rape culture.
At the same time, due to the drive to frack oil wells, Texas oil production may double by 2020. 
Obama's climate policy encourages the increase of oil extraction and export, alongside false solutions such as natural gas.
There are groups all over the country fighting to stop fossil fuels shipments and the extractivist boom. Check in with your local Rising Tide, Earth First!, or direct action group near you for details!