Oh my goodness!! I am just sooo excited!!
I went to the Post Office this morning to pick up a parcel, Liz Earle cleanser from Buyapowa, now whilst excited to try it that's not the reason for my glee....as there were 2 parcels with my name on.  The second was January's Glossybox.......this seemed strange as I didn't think they were dispatching until today - Perhaps the team at Glossy Box had recognised the brilliance of this blog and decided to make me an ambassador!!?? (as if!)
Wow, I thought, they really have gone all out for Valentine's day - look even hearts on the address label... (yes my dear readers I am getting into the hang of photographing things real time)..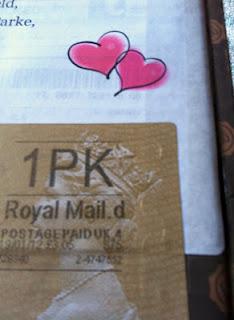 Once I'd fought through the fabulously secure packaging (had they employed a new parcel tape operative?) I found the Glossy red box adorned with diamante hearts!!  Oh Wow Glossybox you have outdone yourselves.... (but wasn't the Valentine's box supposed to be pink?...) no matter....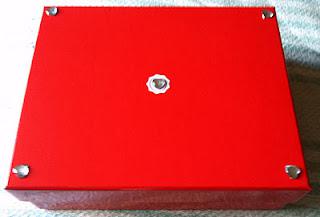 Let's lift the lid - Yay! Sooo can't wait to see what's inside, noone has even blogged about it yet....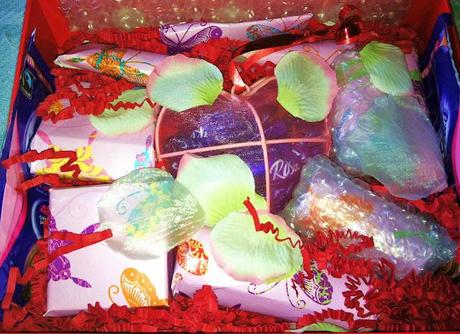 OMG Look how fabulous it's all wrapped up and..........erm........now you guys are already there right?? It was only then it hit me - THIS IS MY SECRET VALENTINE!!
For those of you who aren't aware
Beauty Box Swaps
is a Facebook Community (it's soo much more than just a 'page') where a group of like-minded beauty addicts get together to swap unwanted beauty box items or other new or lightly used beauty products. All swaps are done on trust and it works remarkably well - I've already scored a MAC Satin Taupe eyeshadow that has been on my wish list for ages and some fabulous MEMO perfume samples.
The idea was given life by the lovely Lucy who is assisted by the fabulous Sarah who had the genius idea for a Secret Valentine - those who wanted to participate in the fun put their names forward and then we were matched at random with another swapper and were given a budget of £5 to create a secret Valentine's Day present.
I'm  absolutely overawed by the effort that has been put into this thing of beauty.....NINE, did you get that? NINE beautifully wrapped presents (some in bubble wrap ...intriguing!) plus chocolates in a pink mesh heart......that is destined to adorn my boudouir for years to come (sans chocolates ;-)) and scrummy hot chocolate sachets!
If you haven't already joined in the fun then what are you waiting for? Come and join our growing community of almost 1,000 strong - just click here!  See you there!
I have absolutely no idea who my secret Valentine is...BUT..
I THINK I LOVE YOU! Mwah x
Laters Peeps!
Love Lainey xx
(PS - I'm not opening until Valentine's Day!!!)