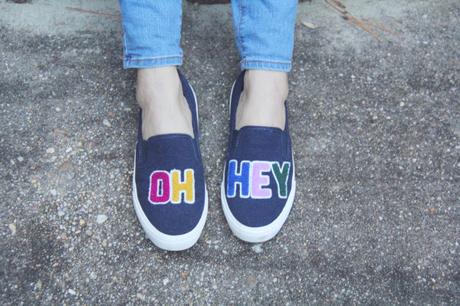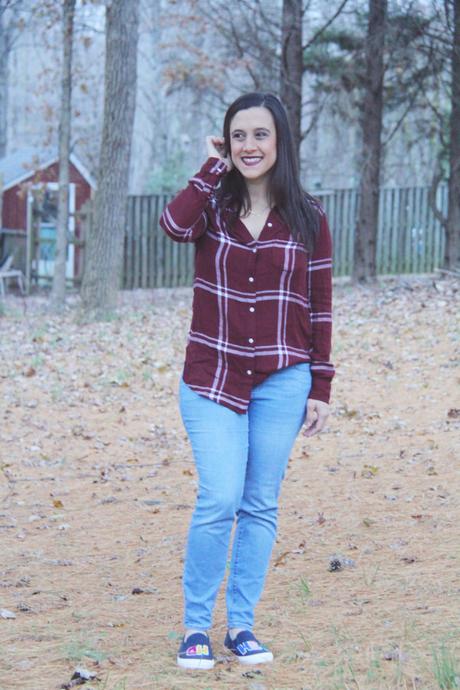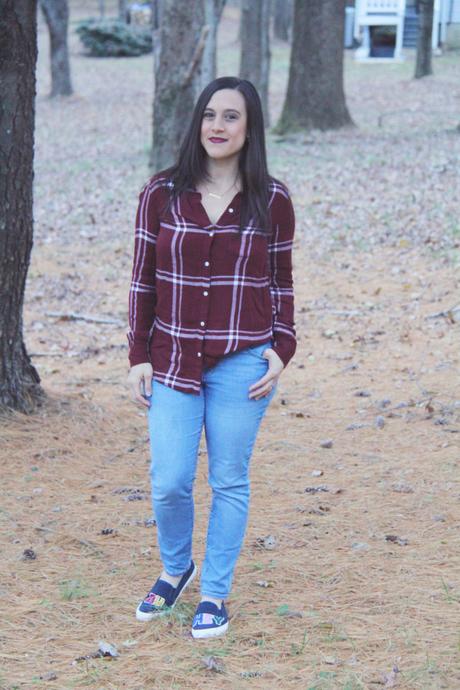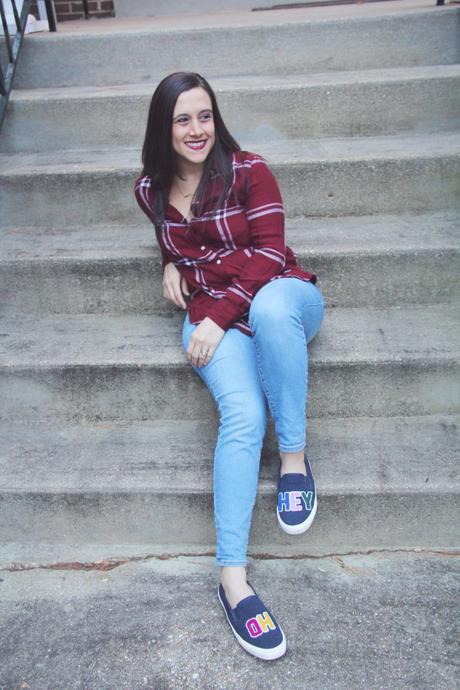 Button Up: Old Navy / Jeans: Old Navy  (Santa Catarina wash) / Slip Ons: Old Navy – these are unfortunately sold out, but these other slip-ons are great for the season! / Lip: MAC Amplified Dark Side
Happy Friday! I don't know about you, but I feel like Old Navy has been killin' it this season. I haven't been wanting to spend a ton of cash on clothes lately while I'm in sort of that post partum transition period, and I've been scoring major deals here on jeans, shoes, sweaters, and more!
I love a good plaid button up for fall, and I have been loving everything burgundy lately, so I had to snatch this one up. I also just added the same shirt in red and black buffalo plaid to my Christmas List which is perfect for the holiday season.
Speaking of the holidays, this velvet tee was also a recent purchase that I'm going to be wearing all month long. I got it in the Galactic color, but they are all beautiful.
Lastly, if you're a mama like me, you may be looking for some adorable holiday outfits for your kiddos. My boys will likely not allow me to match them forever, so I took advantage while I could and I grabbed this shirt in 5T, 3T, and then they have a matching one for baby. How presh, right? They will be looking adorable on Christmas Eve!
So many things are on sale right now…the options are truly awesome…so it's a perfect time to head over there and scoop up some steals!
It's been a crazy week around here with the launch of our new 20 minute workout program coming in January! I've been signing up so many new challengers and coaches to be a part of our team test group with me, and I couldn't be more excited! It's not too late to commit, so please feel free to reach out if you have goals to reach in 2019.
That said, I'm looking forward to relaxing a bit this weekend. I plan to work on (and hopefully finish) my holiday cards (while sipping wine and watching Christmas movies of course), and the boys are SUPER excited about a visit to Santa's Workshop!
What are you most excited about this holiday season?
Have a great weekend!
XO,
Gina