Hello, tray of freshly baked, chocolate-oozing, buttery cookies, hello, waft of butterscotch, brown sugar fumes, dancing and spiralling their way into my nose in the unhealthiest of pirouettes, HELLO!  And ever so swiftly, goodbye secretly stashed leftover cookie dough, farewell 'accidentally broken' piping hot and gooey cookie, in my tummy you go with your every last melting crumb.  Mmmmm.  What a treat.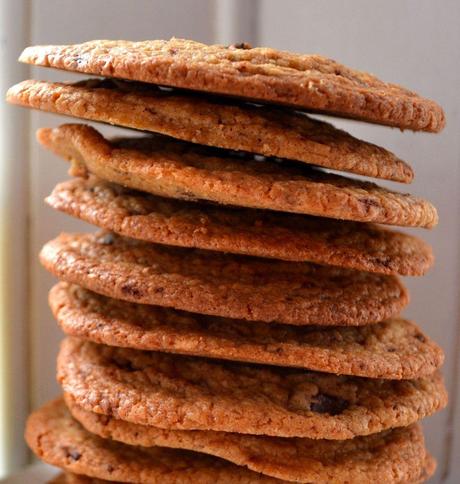 Stacking them high
These cookies are so so naughty, but yet so undeniably warming and comforting you just can't help yourself.  At least this is what I told myself as I munched away at my third.  For these perfect toffeeish biscuits, I went to the most reliable and trustworthy of sources – the Americans.  The Americans have a big thing about chocolate cookies, in the same way that we do about hobnobs and digestives.  The idyllic all-American scene of children laughing and playing in the street, racing through the gently swinging wood-framed back door to a plate of just out-of-the-oven chocolate chip cookies and a glass of milk is true…I think.  Don't burst my bubble.  This is obviously what every family is like.  A sweepingly glamorous cookie baking mom who effortlessly caters to her wonderfully well-behaved chirpy children.  Just lovely.  And undoubtedly unrealistic.  But these cookies are the real deal – glamorous or grubby, cheery children or toddler tantrums, either side of the Atlantic, they will be inhaled in the blink of an eye.  Blink!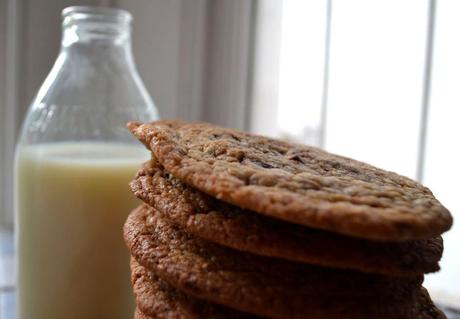 Chocolate chip cookies
Perfect Chocolate Chip Cookies
Adapted from Cooks Illustrated
Ingredients
1 3/4 cups plain flour (8 3/4 ounces)
1/2 teaspoon baking soda
1 3/4 sticks unsalted butter (7 oz)
1/2 cup granulated sugar (3 1/2 ounces)
3/4 cups packed dark brown sugar (5 1/4 ounces)
1 teaspoon table salt
2 teaspoons vanilla extract
1 large egg
1 large egg yolk
1 1/4 cups semisweet chocolate chips or chunks
3/4 cup chopped pecans or walnuts, toasted (optional)
Adjust the oven rack to the middle position and heat the oven to 375°F/190°C.  Line 2 large (18- by 12-inch) baking sheets with baking paper. Whisk the flour and baking soda together in a medium bowl and set aside.
Heat two-thirds of the butter in a wide frying pan over a medium-high heat until melted. Continue cooking, swirling pan constantly until the butter is dark golden brown and has a nutty aroma, about 1 to 3 minutes. Remove the pan from the heat and transfer the browned butter to a large heatproof bowl. Stir the remaining cold butter into the hot butter until completely melted.
Add both sugars, the salt, and the vanilla to the bowl with the butter and whisk until fully incorporated.  Add the egg and yolk and whisk until the mixture is smooth with no sugar lumps remaining.  Let the mixture stand for 3 minutes, then whisk for 30 seconds. Repeat process of resting and whisking 2 more times until the mixture is thick, smooth, and shiny.  Using a rubber spatula or wooden spoon, stir in the flour mixture until just combined. Stir in the chocolate chips and nuts (if using), giving dough final stir to ensure no flour pockets remain.
Divide the dough into 16 portions, each about 3 tablespoons (or use an ice cream scoop).  Arrange them 2 inches apart on the prepared baking sheets, 8 dough balls per sheet.  Bake the cookies until they are golden brown and still puffy, and the edges have begun to set but the centres are still soft, 10 to 14 minutes, rotating baking sheet halfway through baking.  Transfer the baking sheet to a wire rack and cool cookies completely before serving.  Ignore the recipe for a second and make sure you have one while they are still warm – cook's perks!