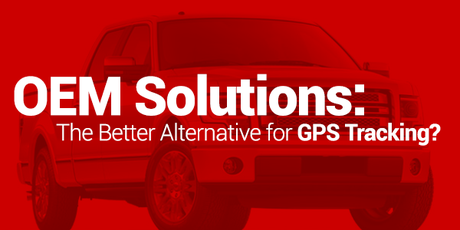 Vehicle manufacturers are now offering their vehicles with GPS tracking pre-installed, making OEM solutions a hot topic in the fleet industry. With this new option available, some fleet professionals are asking, "Are OEM solutions the better alternative for vehicle tracking?"
Although it may seem simpler to use GPS tracking that is already installed in your vehicles, OEM solutions may present many issues for fleets. There are many disparities between OEM solutions and aftermarket GPS tracking software. Read this blog to learn about why choosing an OEM solution may fall short of expectations and is likely not the right choice for your fleet.
OEM Solutions are Problematic for Mixed Fleets
One of the main issues with OEM solutions is that they do not work for mixed fleets. It is very rare for a business to have only brand new and one vehicle make across their entire fleet. If you do have a variety of vehicle types and model years, you will be forced to use multiple OEM solutions if you want to track your full fleet. Using multiple software platforms is a hassle, will create unnecessary work for employees, and is by far the more expensive option. Aftermarket GPS tracking software will allow you to track all vehicles makes, equipment, and several other types of assets through one solution.
No GPS Tracking Customizations
OEM solutions are typically a "one-size-fits-all" platform with no customizations available. This is problematic because every fleet requires a certain amount of customization based on your business model, industry, fleet size, and more.
Advanced aftermarket GPS tracking solutions allow you to create custom reports, alerts, and dashboards for your business based on your specific needs. Customizing your fleet's data will also allow you to filter information to employees or departments that is relevant to their job responsibilities. If your business utilizes multiple software platforms like ERP, dispatch, or order entry, you should use a solution that can integrate with these back end systems. It is beneficial to integrate GPS tracking data with your other business applications because it provides a complete view of your fleet operations in one place.
Even though OEM solutions may seem like the better option for GPS tracking, it simply is not the case. It is important to consider your long term goals when selecting a GPS tracking provider. If you are looking for a solution that will reduce costs, increase productivity and efficiency, and deliver the most ROI overall, then advanced aftermarket GPS tracking software is recommended.
For more information on the benefits of aftermarket GPS tracking technology, contact GPS Insight!