For the first time, I've partnered up with another book blogger/bookstagrammer and I'm really excited about it!
We are hosting
MegaNerderie Creeptober Read-A-Thon
throughout the entire month of October.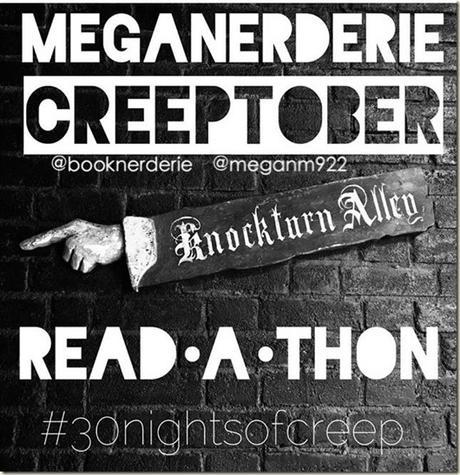 How to Participate:
Pick out some creepy reads for the month of October.
Post about your experiences.
Most importantly, have fun.
Link back to our blogs if you'd like and share share share!
Feel free to follow us on our blogs, Twitter, or Instagram.
October is my favorite month of the year because I absolutely love
Halloween
. I know not a lot of people read horror, so this a great opportunity to stretch your reading wings and try some new things!
Meet up with us in October for the official beginning of this Read-A-Thon. There is no list of what to read and we aren't all going to be reading the same things, just books with the horror, creepy, or supernaturally awesome theme!
What books do you have in mind? Are you a fan of things that go bump in the night? Does this sound like something you or someone you know might want to try?
See Booknerderie's post here.
Follow Links:
Booknerderie: 
Blog
   . 
Twitter @booknerderie
   .  Instagram @booknerderie
Megan (Love, Literature, Art, and Reason):
Twitter @meganm922
   .   Instagram @meganm922