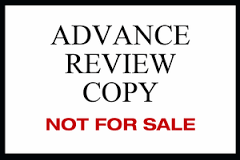 Hello everyone! Every other month I alternate what I'm reading quite specifically between three things. It's either Chrissi Cupboard Month where I try my best to get through all the books my sister and fellow blogger Chrissi Reads lends me (and that's a lot!).
Then there's Real Book Month where I try and read all the physical books just waiting to be devoured on my bookshelves (also a LOT!)
Finally, there's Book Bridgr/NetGalley/ARC Month where I try and catch up on all those ARC/review copies sent to me by authors, publishers, NetGalley and Book Bridgr. (A LOT!)
At the moment, I'm desperately trying to catch up on my Netgalley reviews to finally achieve that much longed for and ideal 80% ratio. Unfortunately there's not much chance of me achieving it this year – I went a bit crazy when I was first approved for review copies on Netgalley. Oops. However, I've done much better this year at closing the gap and will work on it again next year before I request anything else. Once I'm on top of things, I'm planning to be much more sensible!
Anyway, here's what I've got planned to read this month:
An Act Of Silence by Colette McBeth (with kind thanks to Headline publishers)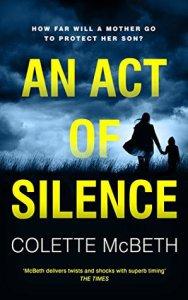 What's it all about?:
MOTHER. WIFE. POLITICIAN. LIAR.

THEN: How far did she go to conceal the truth?
Politician Linda Moscow sacrificed everything to protect her son: her beliefs, her career, her marriage. All she wanted was to keep him safe.
NOW: What will she risk to expose the lies?
When the voices she silenced come back to haunt her, Linda is faced with another impossible choice. Only this time, it's her life on the line . . .
An Act of Silence is about the abuse of power, the devastating effects of keeping the truth buried, and the lengths a mother will go to save her child.
The Book Of Mirrors by E.O. Chirovici (with kind thanks to Random House, UK)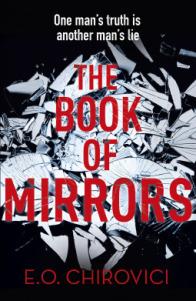 What's it all about?:
One Man's Truth Is Another Man's Lie.
When big-shot literary agent Peter Katz receives an unfinished manuscript entitled The Book of Mirrors, he is intrigued.
The author, Richard Flynn is writing a memoir about his time at Princeton in the late 80s, documenting his relationship with the famous Professor Joseph Wieder. One night in 1987, Wieder was brutally murdered in his home and the case was never solved.
Peter Katz is hell-bent on getting to the bottom of what happened that night twenty-five years ago and is convinced the full manuscript will reveal who committed the violent crime. But other people's recollections are dangerous weapons to play with, and this might be one memory that is best kept buried.
The Boy That Never Was by Karen Perry (with kind thanks to Penguin UK)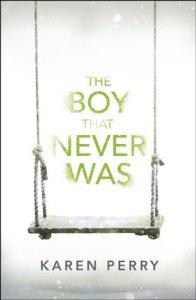 What's it all about?:
You were loved and lost – then you came back . . .
Five years ago, three-year-old Dillon disappeared. For his father Harry – who left him alone for ten crucial minutes – it was an unforgivable lapse. Yet Dillon's mother Robyn has never blamed her husband: her own secret guilt is burden enough.
Now they're trying to move on, returning home to Dublin to make a fresh start.
But their lives are turned upside down the day Harry sees an eight-year-old boy in the crowd. A boy Harry is convinced is Dillon. But the boy vanishes before he can do anything about it.
What Harry thought he saw quickly plunges their marriage into a spiral of crazed obsession and broken trust, uncovering deceits and shameful secrets. Everything Robyn and Harry ever believed in one another is cast into doubt.
And at the center of it all is the boy that never was . . .
The Sex Lives Of Siamese Twins by Irvine Welsh (with kind thanks to Random House UK)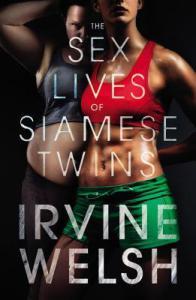 What's it all about?:
When Lucy Brennan, a Miami Beach personal-fitness trainer, disarms a gunman chasing two frightened homeless men, the police and the breaking-news cameras are not far behind and, within hours, Lucy is a media hero. The solitary eye-witness is the depressed and overweight Lena Sorensen, who becomes obsessed with Lucy and signs up as her client – though she seems more interested in the trainer's body than her own. When the two women find themselves more closely aligned, and can't stop thinking about the sex lives of Siamese twins, the real problems start…
In the aggressive, foul-mouthed trainer, Lucy Brennan, and the needy, manipulative Lena Sorensen, Irvine Welsh has created two of his most memorable female protagonists, and one of the most bizarre, sado-masochistic folies à deux in contemporary fiction. Featuring murder, depravity and revenge – and enormous amounts of food and sex – The Sex Lives of Siamese Twins taps into two great obsessions of our time – how we look and where we live – and tells a story so subversive and dark it blacks out the Florida sun.
Sisters Of Treason by Elizabeth Fremantle (with kind thanks to Penguin UK)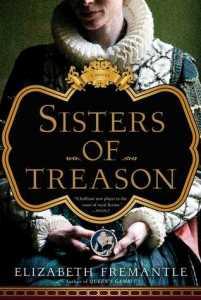 What's it all about?:
Early in Mary Tudor's turbulent reign, Lady Catherine and Lady Mary Grey are reeling after the brutal execution of their elder seventeen-year-old sister, Lady Jane Grey, and the succession is by no means stable.
Neither sister is well suited to a dangerous life at court. Flirtatious Lady Catherine, thought to be the true heir, cannot control her compulsion to love and be loved. Her sister, clever Lady Mary, has a crooked spine and a tiny stature in an age when physical perfection equates to goodness — and both girls have inherited the Tudor blood that is more curse than blessing. For either girl to marry without royal permission would be a potentially fatal political act. It is the royal portrait painter, Levina Teerlinc, who helps the girls survive these troubled times. She becomes their mentor and confidante.
But when the Queen's sister, the hot-headed Elizabeth, inherits the crown, life at court becomes increasingly treacherous for the surviving Grey sisters. Ultimately each young woman must decide how far she will go to defy her Queen, risk her life, and find the safety and love she longs for.
BUDDY READS/COLLABORATIONS FOR THE REST OF THE MONTH
I've got myself quite a good mixture of contemporary fiction, thrillers and a historical fiction but I've also got some fantastic buddy reads planned for this month. Firstly, my monthly read with the wonderful Janel from Keeper Of Pages is the second book in The Themis Files – Waking Gods by Sylvain Neuvel. If you're intrigued for my review from the first book in the trilogy, Sleeping Giants which was also read with Janel, please check out my review HERE.
Then we've got another buddy read with the fantastic Stuart from Always Trust In Books. This time around we'll be reading The Seven Deaths Of Evelyn Hardcastle by Stuart Turton. It's a book I've heard so much hype about and I was delighted when Stuart hauled it recently as it seems like every blogger I know has read and absolutely adored it. I need to get on this bandwagon.
I'll also be buddy reading for the very first time with the lovely Jennifer from Tar Heel Reader. We'll be reading Elmet by Fiona Mozley, again another book that I've been very excited to get to!
Finally, I'll be reading the "usual suspects" with my fabulous sister, Chrissi Reads. Our Kid-Lit book for the month of October is Nightbirds On Nantucket, the third book in The Wolves Chronicles by Joan Aiken and our Banned Book for the month is Beloved by Toni Morrison.
A busy, busy reading month but I wouldn't have it any other way! I'd love to know if you've read any of these titles and what you thought of them? Hope everyone else has a brilliant reading month!
Lots Of Love
Beth xxx
Advertisements