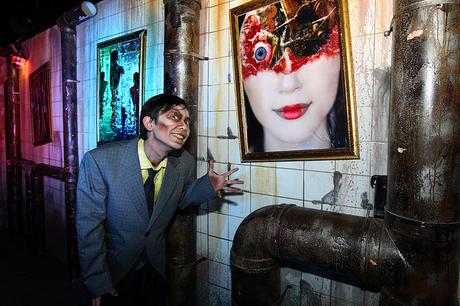 We all know Ocean Park Hong Kong for its spectacular, family-friendly attractions and the amazing animals it has taken under its care. But every year, as October comes, spooks and thrills abound one of Asia's most popular theme parks. Now on its 15th year, Halloween Fest is bigger-than-ever, with its ten unique experiences at eight haunted attractions.
Headlining the theme park's Halloween attraction is H15 presented by Yahoo! Hong Kong, which takes victims on "a solo journey while helplessly strapped to a mortuary bed led by a corpse bearer." The bone-chilling journey simulates a funeral—complete with a decorative portrait—and continues down to the underworld to face ghosts and ghouls.
Meanwhile, fans of the FOX Channel's The Walking Dead will love the attraction inspired by the show, where guests themselves must join survivors of the apocalypse as they escape hordes of walkers across different recreated scenes. Also, Doraemon, with his friends Dorami, Nobita, Shizuka, Gian, and Suneo, of the hit Japanese animated series will greet guests in their new Halloween garb and make a movie with them at Whiskers Harbour.
These are only some of the highlights of this year's Halloween Fest, and throughout the event days and nights, there are other equally-thrilling attractions to look forward to, like creepy obstacle courses, scream houses, a trick-or-treat pumpkin trail, and shows, among others.
The Ocean Park Hong Kong Halloween Fest 15 runs on certain event days and nights from October 2 until November 1, 2015. For more details, check out halloween.oceanpark.com.hk.