I know I blogged about the difficulties of eating on the Cape ~ and trust me, there were challenges ~ but fortunately this wasn't my first visit so there were certain places I knew I could rely on for good food (or good food shopping.)  One of those we have come to frequent as a family is the
Ocean House
in Dennisport.
When you arrive at Ocean House, you see a large, brick building set on the ocean ~ a rather curious choice of architecture for this area. Once you walk inside however, you are transported by the floor to ceiling windows, dim candlelight and pretty yet simple centerpieces of single buds floating in vases filled with small rocks and water set on white tablecloths.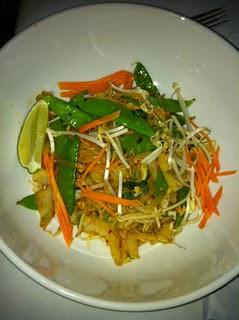 The 12 of us sat at a long table and took our time to order, while we munched on these large, triangular flat breads, held up by a sour dough baguette with a white bean dip that was just so flavorful! I considered a pizzette with wild mushrooms and a pasta with roasted eggplant and tomato (leaving the cheese ingredients to others) but instead selected the 10 ingredient chopped salad and the pad thai noodles.
The salad was simple yet delicious ~ romaine hearts, chick peas, celery, cucumber, olives and beets were among the tasty, crisp and fresh ingredients, all dressed in a slightly sweetened red-sine vinaigrette.  It was, by far, the best salad I'd had since I'd left New York (even the ones I'd made myself.)
The pad thai was also very good.  It was one of the spicier recipes, and had rather simple ingredients since I removed the egg and didn't add any chicken or shellfish, but the chopped peanuts were a nice counter balance to the chilis.
What made the meal all the better was not only the view of the ocean, but the spectacular sunset.  We ate at a kid-friendly time but lingered long enough to enjoy as day turned to night.  It was really beautiful.  This was our third visit to the restaurant, and will not be our last.