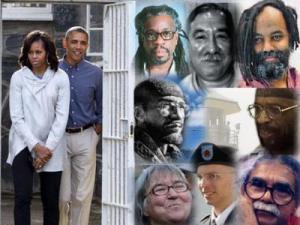 From Black Agenda Report/ By Glen Ford
A Black Agenda Radio commentary by executive editor Glen Ford
Obama sees no irony in making a pilgrimage to Nelson Mandela's place of political imprisonment, while holding 80,000 human beings in solitary confinement. "Racist South Africa's treatment of Mandela and his co-revolutionists was downright benign and enlightened, compared to fate of U.S. prisoners who are deemed a threat to the prevailing order."
"Obama has no sympathy, however, for political prisoners of any race in his own country."
President Barack Obama, a man of infinite cynicism, made a great show of going on pilgrimage to Nelson Mandela's old prison cell on Robben Island, where the future first Black president of South Africa spent 18 of his 27 years of incarceration. With his wife and daughters in tow, Obama said he was "humbled to stand where men of such courage faced down injustice and refused to yield…. No shackles or cells can match the strength of the human spirit," said the chief executive of the unchallenged superpower of mass incarceration, a nation whose population comprises only 5 percent of humanity, but is home to fully one-quarter of the Earth's prison inmates.
True sociopaths, like the commander-in-chief who updates his Kill List every Tuesday, have no sense of shame, much less irony. Obama feigns awe at Mandela's suffering and sacrifice in the prisons of apartheid South Africa, yet presides over a regime that, on any given day, holds 80,000 inmates in the excruciating torture of solitary confinement. During Nelson Mandela's nearly three decades of imprisonment by the white regime, he spent a total of only about one week in solitary confinement. The rest of the time, despite often harsh treatment, backbreaking labor, and unhealthy conditions, Mandela and other political prisoners at Robben Island and other South African jails were typically housed together. Indeed, Mandela and his incarcerated comrades called the prisons their "university," where they taught each other to become the future authorities over their jailers.
"A social death alien to the human species."
Racist South Africa's treatment of Mandela and his co-revolutionists was downright benign and enlightened, compared to fate of U.S. prisoners who are deemed a threat to the prevailing order. At U.S. high security facilities, the slightest evidence that an inmate is of a political bent of mind is cause for him to be condemned to a solitary existence for decades – a social death alien to the human species. At California's Pelican Bay and the state prison at Corcoran, thousands of inmates are held in isolation, 80 of them for more than 20 years, the very definition of barbarism.
Former Black Panther Herman Wallace, among the longest political prisoners in the USYet, Obama journeys across oceans and continents to stand for a photo op in the cell of a prisoner whose ordeal was nowhere near as horrific as the standard fare for political prisoners in his own country.
On his trip to South Africa, Obama proclaimed that "the world is grateful for the heroes of Robben Island." And, that's certainly true, although it was a U.S. intelligence agent who lured Nelson Mandela into a trap in 1962 that ultimately led to his capture and imprisonment. Obama has no sympathy, however, for political prisoners of any race in his own country. Former Black Panther Herman Wallace is thought to be the longest-serving prisoner in solitary confinement in the United States, having spent 40 years alone in a cell in Louisiana's notorious Angola Prison. Obama could free him at any time, but of course, he won't. He could emancipate Black Panther captive Russell Maroon Shoatz, who has spent nearly 30 years in solitary, or Republic of New Africa political prisoner Mutulu Shakur or any and all of the scores of other aging political prisoners – people whose dedication to human freedom is no less than Mandela's, yet have been subjected to far worse treatment at American hands. Instead, Obama has doubled the bounty on Shakur's comrade and sister, Assata, in exile in Cuba. She might even be on Obama's Kill List – which is the real and authentic legacy of this country's First Black President.
For Black Agenda Radio, I'm Glen Ford. On the web, go to BlackAgendaReport.com.
BAR executive editor Glen Ford can be contacted at [email protected].