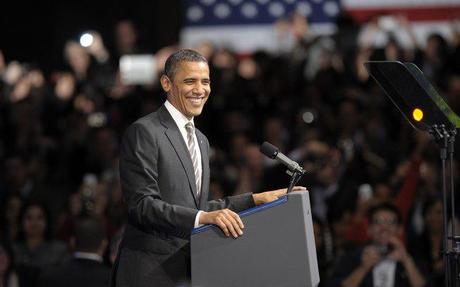 President Barack Obama attends a fund raising event in San Francisco, Calif.,
on Feb 16. Photo: AP.
Priorities USA Action, a super PAC supporting President Barack Obama's re-election campaign, only managed to raise $58,815.83 in January, according to Federal Election Commission (FEC) filings. The amount raised is considerably lower than the sums the super PACs backing Republican presidential candidates receive in donations in any particular month.
This signifies that Priorities USA Action only managed to raise on average $1,900 a day in the first four weeks of the year. By comparison, Restore Our Future, a super PAC supporting former Massachusetts governor Mitt Romney, received $6.6 million last month, which is the equivalent of over $210,000 per day.
The filings indicate that those numbers could have been even worse. According to the documents made public, a $50,000 donation was received from Ariel Capital's John W. Rogers. Without Mr. Rogers large contribution, Priorities USA Action would have raised an even paltrier $8,815.83 last month, the equivalent of $284 a day.
Over the whole of 2011, Mr. Obama's super PAC received $4,4 million in donations, roughly half of which from film producer and DreamWorks Animation CEO Jeffrey Katzenberg. This is more than double what Winning Our Future, a political action committee backing former House speaker Newt Gingrich, managed to achieve last year. By comparison, Restore Our Future raised in excess of $30 million over the same period.
Still, Jim Messina, President Obama's campaign manager, says that Priorities USA Action has been doing better since he announced two weeks ago that campaign and White House officials would be attending the PAC's events from now on. "Interest and enthusiasm has increased significantly since the announcement," he wrote in an email.
Although Priorities USA Action's performance has so far been very disappointing, Mr. Obama revealed last week that he had raised $11.9 million for his campaign as well as $17.3 million for the Democratic National Committee (DNC) in the first four weeks of 2012. This means that, for this election cycle, the president has raised in excess of $250 million.