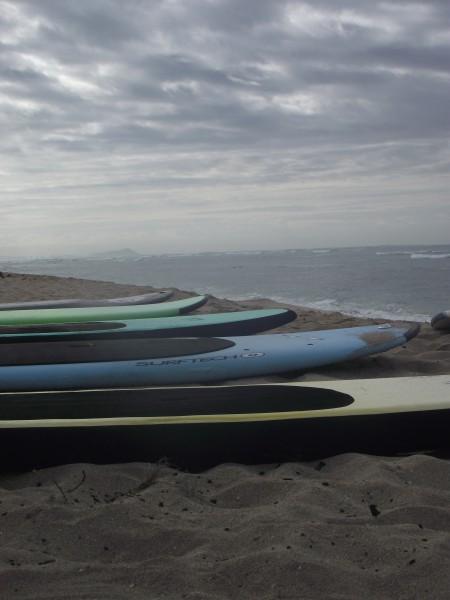 Usually when we go on vacation, we try our best to avoid the common tourist traps.  But every now and then, we can't help but indulge our touristy impulses.  In Hawaii's case, this meant that we had to try out surfing lessons.  Since Oahu has the renowned North Shore, we figured that it would be the perfect island for our surfing adventure.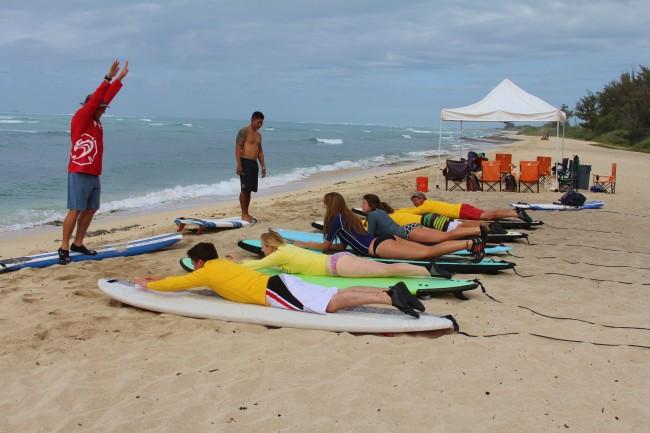 We ended up picking the Hawaiian Fire Surf School, mainly for the convenience of their location to our resort but also because they had fantastic reviews.   The boys were really sweet and very educational.  They also happen to be real Oahu firefighters, which was definitely reassuring for this first time surfer (and it doesn't hurt that they offered a pleasant backdrop as well

)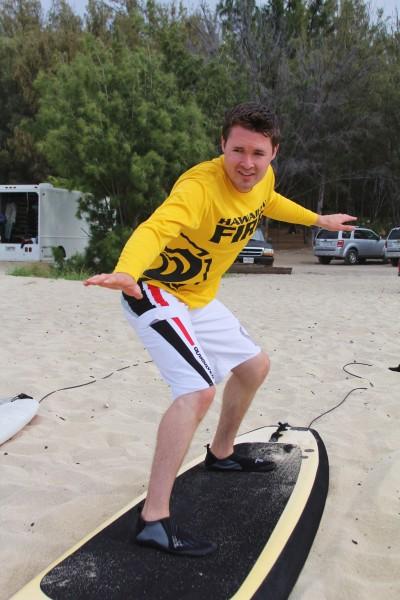 We practiced the surfing techniques they taught us on land before we headed out to sea, which of course provided the perfect opportunity for lots of action shots.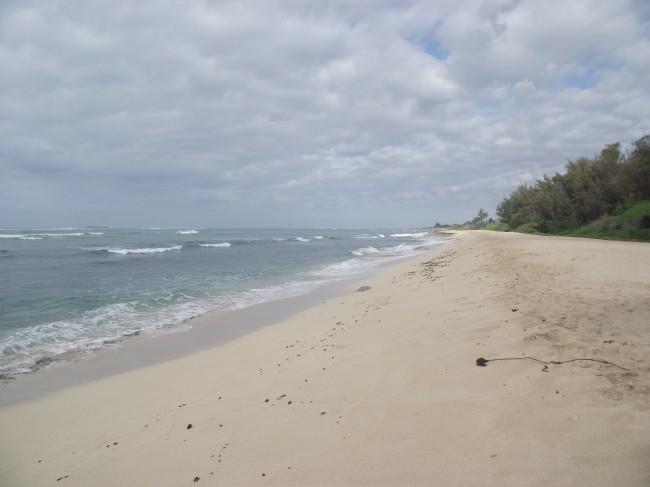 After practicing and attempting to gain our sea legs, we headed out into the water.  Hawaiian Fire conducts their lessons at a local, secluded beach with generally small wave breaks, which I was very appreciative of when we finally got on the boards.  Apparently, most surf lessons in Oahu are conducted at Waikiki Beach, which is a prime location, but it's also very crowded.  First time surfers at these schools spend a lot of time dodging other surfers, which can lead to a less than safe environment.  We were literally the only people surfing in this area so we never had to worry about rogue locals or other first timers. The only bad part was that there was a lot of dead coral on the ocean floor so we had to be careful about how we fell into the water.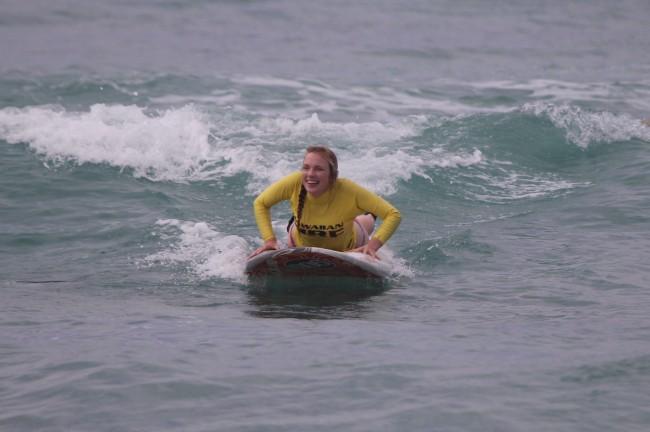 We started off our surfing sessions by paddling midway from the shore.  From there, our instructors would hold the back of the board until they saw the perfect wave. When the wave was just about to meet our board, they would push the board and then we would have to paddle and stand up.  In theory that all sounds pretty easy, but it's definitely quite the workout.  I have terrible balance. I run into walls, trip over myself, and am generally pretty clumsy.  So I had a hard time finding my balance.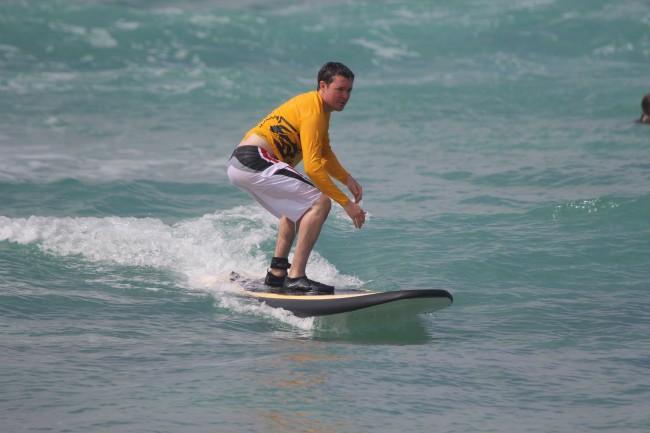 Mr. A, on the other hand, was quite the pro.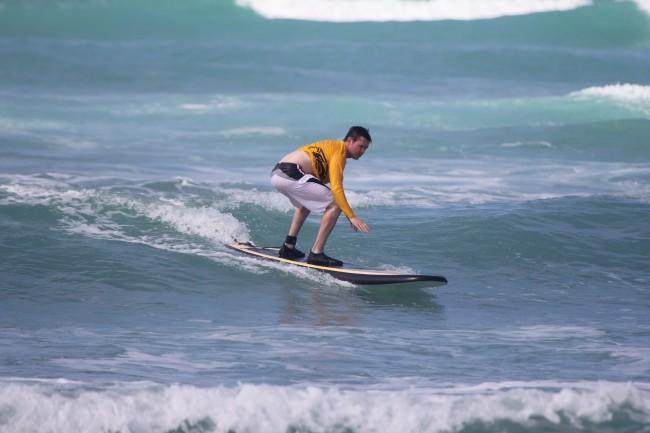 I like to think that it's because a surfing stance is analogous to a batting stance.  Since he's such the baseball superstar, he was bound to be a great surfer.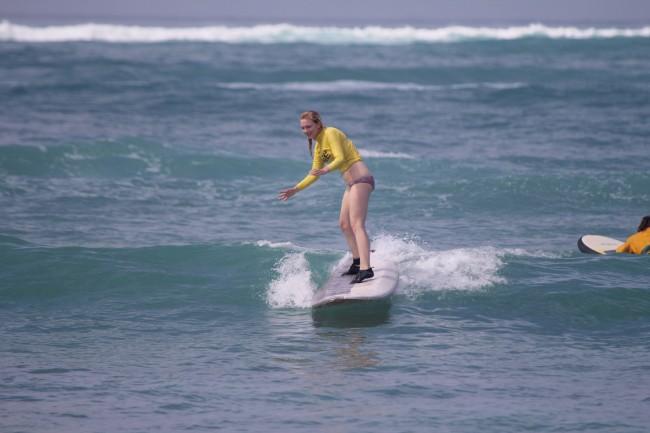 I definitely got on my fair share of waves as well.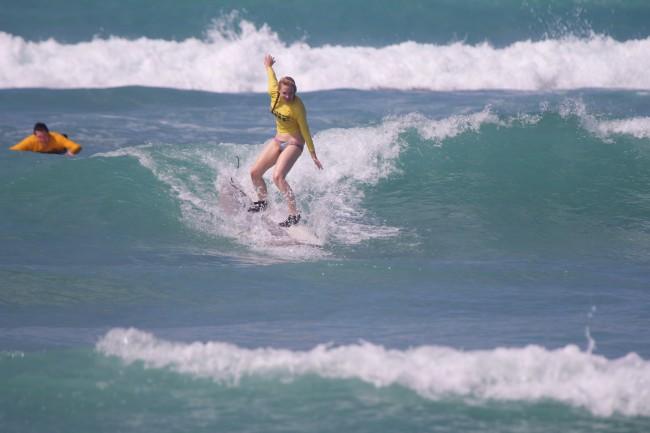 And sometimes I just ate sea water.
While Mr. A was having a blast the entire time we were out in the water, I started to lose energy towards the end.  Surfing into the shore was an amazing feat.  But as soon as you reached the shore edge, it was time to turn around and paddle back out.  Those 150 yard paddles were killer after a while.  Towards the end of the lesson, we progressed further out from the shore to catch larger waves, which meant an even further paddle from shore.  I may or may not have skipped out on a few waves at this point because I could not fathom paddling out there one more time.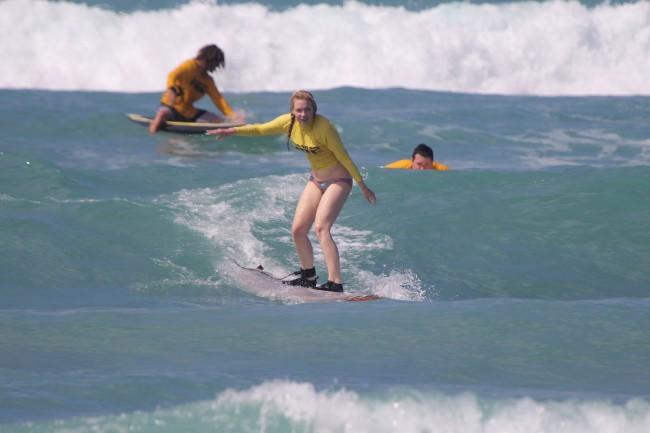 I definitely have a new found respect for the physical ability and talent it takes to make this happen.
When we got back to shore, we had an opportunity to check out the pictures their photographer took. We opted to pay the $30 extra to get a flash drive of all of the pictures (otherwise no one would have ever believed that I stood on top of a surfboard).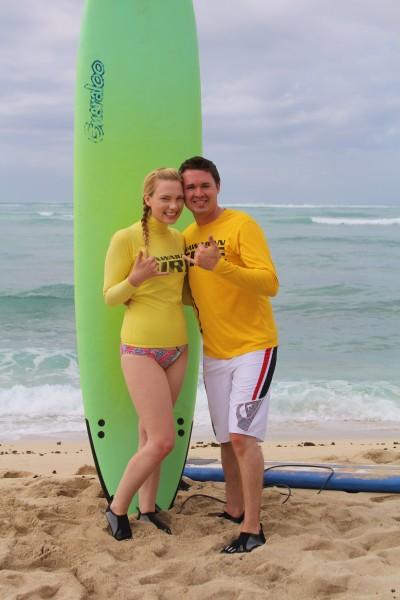 If you are looking for surfing lessons in Oahu, I would definitely recommend Hawaiian Fire.  The instructors are very patient and very sweet.  Just a few tips to maximize your experience. If you are a girl, don't be like me and wear a bathing suit top with a jewel on it.  The jewel rubbed against my chest the entire time (which I realize was a pretty stupid move on my part).  Let's just say I had a bruise on my chest bone for the rest of the trip.  Hawaiian Fire will also let you drive to the beach, instead of having them pick you up from your hotel.  We liked this option because it meant that my Mom could tag along and take pictures for free (they charge for extra passengers and for pictures). And the final tip, make sure to put extra sunscreen on your back side.  Once again, this was another dumb moment of mine.  I typically concentrate sunscreen on my front side since that is what faces the sun but in surfboarding you lay with your back to the sun the entire time.  Let's just say my legs learned the true meaning of Hawaiian Fire.
I'm so glad that we got the opportunity to live out a true slice of Hawaiian life, even if it did cost me my legs for the rest of the trip.
Anyone else ever been surfing?  Did paddling make you want to die?