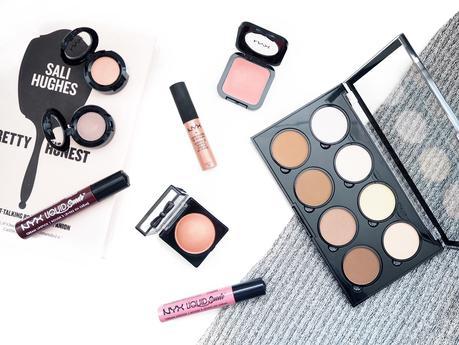 Unless you've been hiding under a rock of late, you'll know that NYX has finally become widely available in the UK and is now stocked in Boots stores. I managed to track down a stand last week and made the most of being able to have a good swatch and pick up a few products I'd either heard good things about, had my eye on for a while or just thought looked interesting.
When it comes to lips, the first thing I made a b-line for was the Soft Matte Lip Cream in Stockholm which seems to be one of those must have shades at the moment. It was sold out online and in store the first time I went in with the intention of picking it up, but second time lucky in this case and I managed to get hold of it. I have tried the Soft Matte Lip Creams before and find them to be long lasting without being too drying, and, when they do fade it isn't over obvious (where the lighter shades are concerned at least). Stockholm is a beautiful understated peachy-nude, perfect for the upcoming spring/summer season and I can see this becoming a permanent fixture in my make up bag for the foreseeable.
I also wanted to try out some of the new Liquid Suede Cream Lipsticks as after swatching them they were SO pigmented that I just couldn't say no. I picked up the shades Vintage - a deep purple with a hint of brown to it (think MAC Whirl but a little vampier) and Tea and Cookies - a creamy muted pink which dries down a lot duskier than it appears in the packaging. The formula of these is gorgeous and actually feels a lot more luxurious/smoother to apply than the Soft Matte Lip Creams which I am assuming has something to do with the avocado oil and Vitamin E present - helping to hydrate and ensure even application.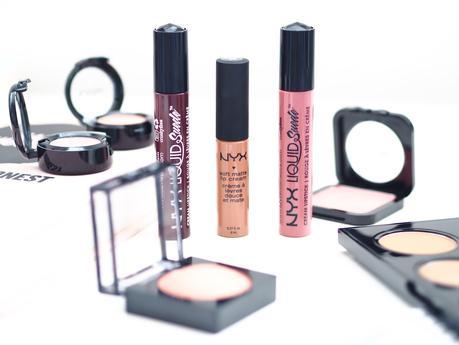 The two Hot Singles Eyeshadows I grabbed were a bit of an impulse purchase - Coquette and Sex Kitten - a matte slate with a touch of mauve and a light shimmery nude with a slight peach tone, seemed like they would make perfect everyday shades that I could just swipe on all over my lids without having to think too much. I have yet to test these but will report back on how they wear today after a full days work at the office.
NYX's blush in Dusty Rose was the first product I both tried and loved from them going back four or five years now, so I was excited to have a gander and try out some more from their new lines. The first one that caught my attention was the High Definition Blush in Hamptons - your standard peachy-nude but in a completely matte formula. Pigmented enough, though not overly so (i.e. it's easily buildable) this applies very nicely thanks to the finely milled formula, however, it is a little powdery so be careful of any excess! The product itself lasts extremely well and I am looking forward to trying more from the line. At the same time, I also nabbed the shade Ignite from their Baked Blush range - a muted orange with a golden bronze shimmer running through it. Once you get past the first layer, this stuff is beautifully pigmented and I can see it looking incredible as either a blush/highlight shade during the summer months once I've whipped the fake tan out alongside a slick of coral lip gloss.
And last but not least, the Highlight and Contour Pro Palette. I 100% hadn't intended on getting this, but after swatching some of the shades I felt like it was worth a go. The two lightest highlight shades, despite not looking like much in the pan, are very finely milled and blend beautifully to create the most subtle of shimmers, and the third contour shade from left is the perfect light, ashy tone for my pale skin (it's also a great dupe in terms of color for Kevin Aucoin's Sculpting Powder in Light). For £18, compared to most of the other contouring kits on the market, I thought this was an absolute bargain, and I am looking forward to having a proper play with it in order to compare.
Have you tried anything from NYX yet? Which products are your faves?
Sarah x