In desperate need of something to help keep my unruly eyebrows tamed, I recently picked up NYX's Eyebrow Shaper. It is a colorless wax meant to hold brows in place. What makes this particularly unusual is that this wax comes in a pencil. I figured this was either doomed for a spectacular fail or could be the greatest brow groomer ever invented.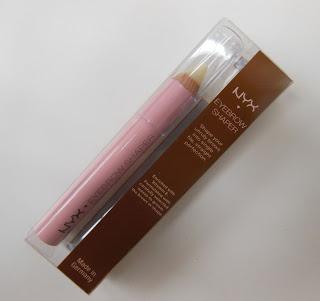 I have never really bothered much with eyebrow gels or waxes to keep my brows in place. It's not for a lack of need, but more out of laziness. My eyebrow hair is incredibly long – read into that, terribly unruly! I would consider trimming the hair, but my brows are so sparse that I really need the length to hide the wide gaps between hairs. The problem with that is that they hair doesn't always like to lie in a nice brow arch. Don't get me wrong, the hairs don't stick straight up either, but they sometimes have a mind of their own. So I finally decided I needed something to help tame my brows.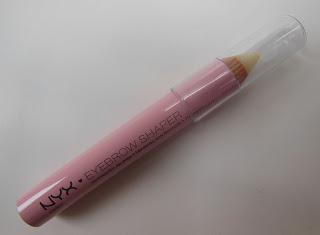 I have tried brow gel when I was younger, but it always seemed a bit flaky, felt kind of sticky, was a bit too stiff and just seemed kind of unnecessary given the end result. I've used wax as well with some success, but it always seemed rather inconvenient and imprecise. Enter the Eyebrow Shaper from NYX. Being wax in a pencil, it is incredibly easy to use and it is as precise as any brow product can be. Since it is a pencil, I was worried it would be kind of a hard wax that was nearly impossible to use on the brows. I shouldn't have worried because the wax is incredibly soft, not at all sticky and, perhaps best of all, it actually keeps my brows in place! It does not flake, and it can even keep my brows well-groomed after 20 minutes of sweaty exercise! The hair looks and feels natural too because the wax is very light which prevents the hair from ending up plastered above your eyes. I must say I am pleasantly surprised by NYX's Eyebrow Shaper. I couldn't have asked for a better product for well-tamed brows!
The NYX Eyebrow Shaper retails for $8.75 and can be found at NYXCosmetics.com, as well as Ulta.com and Ulta retail stores.

Disclaimer: I am not affiliated with NYX Cosmetics in any way, nor have I been compensated for this review.