You know you made good when people come back for seconds right after they finished their first bars.
These brownies are one of it.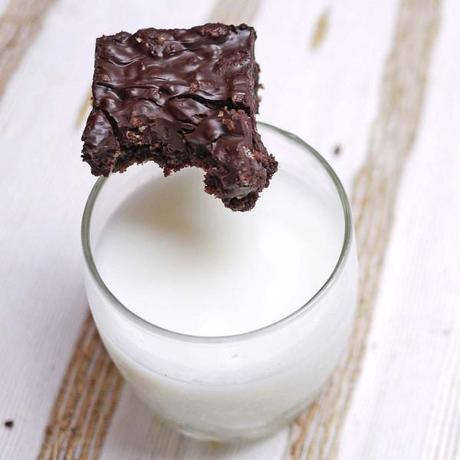 A chewy brownie base is topped with crunchy chocolate rice krispies, held together by chocolate and Nutella.You can of course use the original plain rice krispies. I used the chocolate ones to just re-inforce my excessive personality.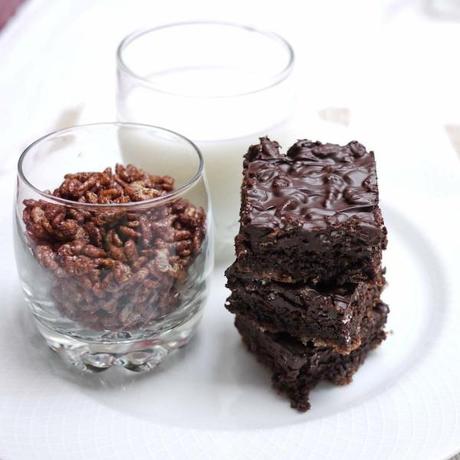 And having Nutella in any of your recipe is like having a latent insurance that your brownies will be in great demand. Trust me, i have done my market research.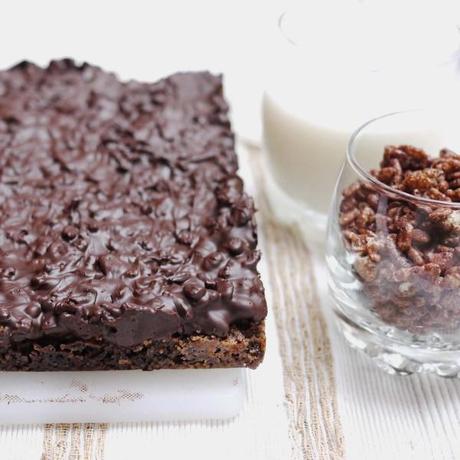 I was half expecting the rice krispies to go soggy on me after being soaked in the Chocolate -Nutella mixture. But surprisingly, theystayed lightly crisp.
The chewy and moist brownie base was just of the right structure to support the frostings. You can lift each of these bars up without having the brownie base crumble upon you from the weight of the rice krispies frostings. Yet, they were also soft enough for your knife to slice through with the least resistance.
Like wise for the topping. I didnt refrigerate the brownies as i didnt want problems slicing through the hardened chocolate. But much to my delight, the frosting did set and dry on its own at room temperature resulting in a semi-soft, truffle-like consistency with crunchy bits from the rice krispies.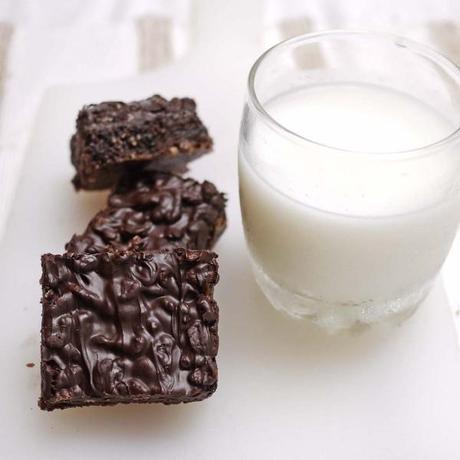 And i do love a good, dry chocolate surface. They are not as messy and you can easily stack them up together for storage. Not that these would be in storage for long though.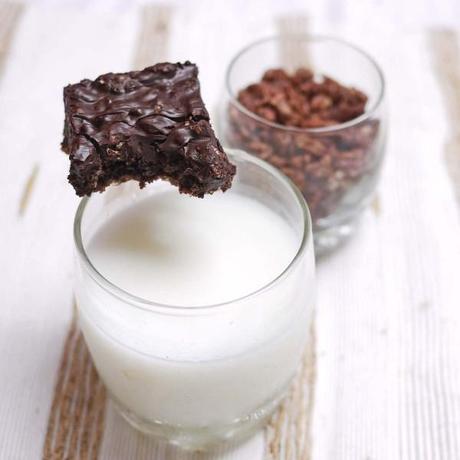 Recipe taken from Pastry Chef's Baking 
*(I scaled downthe recipe to fit an 8×8 baking tin in red)
5 ounces unsweetened chocolate, melted and cooled - 84 grams ¾ cup (1 ½ sticks) unsalted butter, softened – 102 grams, 1 ¾ cups sugar – 210 grams 3 eggs – 1 large egg + 1 yolk 1 teaspoon vanilla extract 1 cup all-purpose flour – 75 grams 1 cup chopped walnuts (optional) – omitted   Nutella Crunch Topping 1 ½ cups semisweet chocolate chips – 152 grams dark chocolate 1 cup Nutella – 135 grams 1 tablespoon unsalted butter – 9 grams 1 ½ cups crispy rice cereal – 1 C 1.  Preheat the oven to 350⁰F.  Grease a 9 x 13 x 2  (8x8x4)inch pan or line with foil and spray lightly with nonstick cooking spray. 2.  In a large mixing bowl, combine the melted chocolate and butter and stir until smooth.  Add the sugar and stir with a wooden spoon until well blended. (I double boiled to melt both chocolate and butter)  Add the eggs and vanilla and mix well.  Mix in the flour and nuts, if using, and stir.  Pour the batter into the prepared pan. 3.  Bake for 30 to 40 minutes, or until the edges appear to be set (the center should still be soft).  Do not overbake. 4.  While the brownies are baking, place the chocolate chips, nutella, and butter in a medium saucepan.  Cook over low heat, stirring constantly until melted.  Remove from heat, add the cereal and mix well.  Allow this to cool for 3 minutes or so.  Spread the mixture evenly over the brownies once they're baked.  Refrigerate until chilled before cutting. (didnt refrigerate)