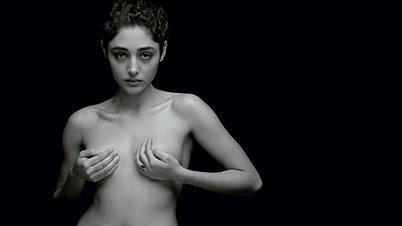 Golshifteh Farahani's new picture is the topic number one in Iran. It has been shared many times in Facebook. Also people inside Iran share the picture on their profiles. As if they wouldn't be afraid of the government. As if the picture gave people a new energy.
Sure some people are angry about the picture - I am not talking only about those shook the hands with who were worried about violation of diplomatic practices of the Islamic Repuplic after Asghar Farhadi  shook the hands with Angelina Jolie (!) - but the mosts comments I read were positively and even thankfully.
This picture has become news (and there is a video beside that picture). The campaign was successful. The new nude photo revolutionary, started in Egypt, has truly arrived in Iran, although if Golshifteh is in Paris now.
You could also read a much more detailed note on this subject in my German language blog.