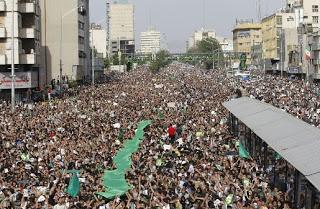 Iran Election Protest 2009
"The green movement" supporters, me included,  believed and believe that Iran's presidential election of 2009 was rigged . Now, the next Iran election is coming. It is scheduled to be held on 14 June 2013.
What do we plan to do? 
Will we boycott the election or will we try to make another protest after another election fraud?
We will surely make different decisions! It's the only answer one can give at the moment. I don't even know what I am going to do. If I can give you any advice: don't take those who say "I don't vote at any case" seriously! Many changed their decision short before the election time in the years 2009, 2005 and 2001. And this could be the case this year too.
Let's start with "what is the
different between 2009 and now?
".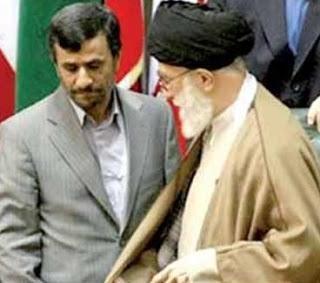 1. At 2009 both the
Guardian Council
 and the executive wanted Ahmadinejad to come out as the winner. At the moment Supreme Leader's Guardian Council (the observer) and Ahmadinejad don't work with each other,
since Ahmadinejad is in a fight with Khamenei
. Knowing the tricks of 2009, it is not as easy to manipulate the upcoming election.
2. Young people of Iran have more experience. It means also mistrusting many reformers.
3. New groups have grown together. They may be able to rise up without reformers.
4. Guardian Council will be more strict.
Next question:
Why don't I know what I am going to do on June 2013?
The answer is that you cannot know what is going to happen tomorrow. May be you wake up one night and read that there was a coup in Iran. Or may be a small accident causes a big revolution. The political system of Iran is a little bit chaotic: Ahmadinejad's old friends are now his enemies. Ministers of today could be prisoners of tomorrow, as some ministers of yesterday are jailed now. And it seems that the people of Iran love to surprise themselves. And westerners! Remember the green revolution. No one had counted with that.
Is the upcoming election only about election and political power? Or can it be used to make a new discourse in the long term?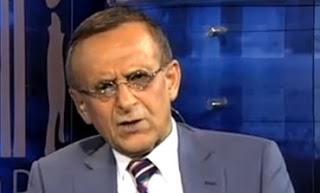 To answer this question it is enough to talk about
Hooshang Amirahmadi
! We will see what is possible to be done in Iran.
Hooshang Amir Ahmadi is an Iranian American politician. He is ready to
answer your questions on reddit
. But let's talk about it later.
Not only at reddit, but every where else people are asking him how he is wanting to go through the filter of the Islamic Republic, the Guardian Council. And some people are talking about his role behind the curtain: How could that guy come to Iran and go out of Iran without any problem?  Amirahmadi is a guy who talks to BBC Persian, Voice of America Persian and other in Iran forbidden Persian language media openly. At the same time, also the conservative media interviews him.
Iran arrests very often journalists and Politicians for "having foreign contacts" (read for example
this one
). What makes Amirahmadi different? His connection to the US? Is he a kind of ambassador of United States? Yes, he kind of is. But is he working for American government? We don't know. So let's not talk about it. I have heard lots of rumors about famous student activists who were jailed and tortured for many years. So I cannot trust everything I hear about Amirahmadi. What I don't like about him, is his openly saying that the problem of Iran was not the Guardianship of the Jurist or Providence of the Jurist (Wilayat al Faqih). But he is a Politician and probably he is saying that out of pragmatism. Let's say there is no ideal Politician in the world. I don't want to defend Amirahamdi. My point is much more important than a person. It's not about Amirahmadi at all. He is only the perfect example!
And now back to reddit.
One guy has asked him:
"Wikipedia says you have been disqualified by the Guardian Council. Is that true, and if so, would you call your campaign a protest? Is there any polling in Iran? Any way of estimating support? Would it be dangerous to vote for you? Are absentee ballots allowed? Are you allowed any kind of platform in Iran? Can you give speeches, distribute literature? Or are you inhibited in your campaign? What is your long term goal, and how do you estimate your chances of achieving it?"
I don't want to answer or ask this question, since I think it is wrong to play the role of  the Guardian Council. But here is Amirahmadi's answer for the book:
"At this point, no candidate (not me, not Messrs. Ghalibaf, Velayati, etc.) is allowed to publicly campaign in Iran. In that sense, all candidates are in the same boat. No candidate can publicly campaign until he gets the approval of the Guardian Council, which will be delivered in late-May. So far, my campaign has been very active campaigning in the United States, Dubai, and the United Kingdom. We will be traveling to Iran in March, but not for public campaigns. With your help, we want to take our message of peace around the world. The fact is that there are two necessary factors for successful campaigns: ideas and money. We are hoping to build a grassroots movement with broad based support. By donating, you are not only helping fund our campaign organization (incorporated under Amirahmadi 1392, Inc.), you are investing in Iran's future. None of this money goes to me personally; it all goes into our small political organization."
And here is another answer of him which I dislike very much since it is not true:
"It is not dangerous to vote for me. In fact, no Iranian citizen has been penalized for simply voting for or supporting a legal candidate."
Knowing all this and knowing that I am not a big fan of Amirahmadi, I can talk about my main point.
Chance to talk about the Issue instead of Persons?
Let me keep quoting some of Amirahamdi's answers:
"As for action, I will give them their citizen rights. I do not look at them as Bahai's, Jew, Muslim, or anything. I look at them as citizens, and as such, you will be equal in front of the law. As President I will make sure you get your rights. Nobody under my administration will be prosecuted for their race, ethnicity, gender, sexuality, religion, political orientation, ideological standing, or any other characteristics."
"Under my administration, homosexuals will have the exact same rights and obligations that any other Iranian citizen will have"
One Redditor asks: "- Fuck, this guy's not gonna get elected, is he? :("
Another Redditor answes:
Probably not. But just by running (or, I suppose, asking to run) he's bringing forth the issue. More than that, he's forcing someone (either the council or competing candidates) to respond to the issues.
For me, any candidate who is able to talk about such issues, is worth campaigning. The results will be seen one day. More important than short time political games are the contents getting discussed.