How many times have you looked at your postpaid bill at the end of the month and wondered, why did I not use the data more. This month I am going to ensure that I use what I am paying for. If you have been one such subscriber then a digital innovation program from Airtel is what you should be looking at. It is offered to transform customer experience across all the touch points of their services in a seamless digital way. The network provider realized that the unused data at the end of the day becoming a painful thing for the subscribers, as they were paying money for data not utilized by them. The company came up with a remedy named "Airtel Postpaid Promise"  that allows postpaid subscribers to carry forward their unused data onto the next billing cycle. This means that a subscriber can accumulate up to 200GB of data at both 3G/4G speeds.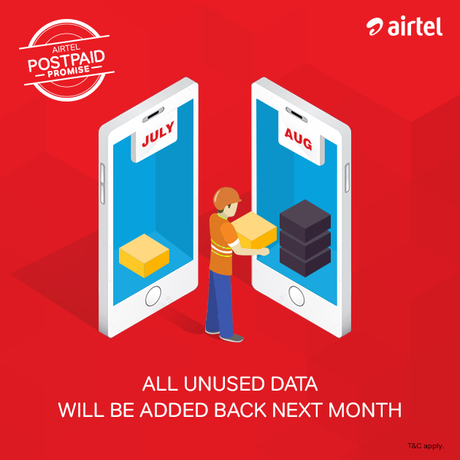 To illustrate it further, if a subscriber is on a 6GB data plan and was able to use only 2GB, the remaining 4GB will be carried forward to the existing 6GB in the next month. In the next month, the subscriber will have a total of 10GB data at their disposal. Now with the extra data when your spouse or child asks to download a full length HD movie, you can give a choice of your own. You can even watch all the videos about your favorite personality or make international calls with free calling apps that use data without the burden of incurring extra expenses.
Postpaid subscribers can avail this postpaid connection offer (carry-forward/ the rollover feature) with existing plan or higher plan 3G/ 4G plans only. No data rollover offer activation is charged to subscribers. Existing customers, unaware of the plan were surprised with the message they received from the company with regards to the increased data caps when they were automatically switched after the rollout. While the rollout has brought in a lot of smiles, let's just look at some of the salient features of the carry-forward benefits:
It is applicable to postpaid subscribers only. It is available in India only.
Data carry-forward is applicable by default and is applicable till accumulation of 200 GB data for 12 months.
With a variety of plans, postpaid subscribers can enjoy continuing their unused data over the next month
While the data carry-forward offer is applicable on new activation, all data boosters/new activation benefits and retention benefits and surprise, this offer is not applicable to top-up packs, booster packs, smart bytes or -on-post data packs.
The network provider does not allow for combining of this offer with other offers.
As part of this offer, no benefit is transferable.
With a well-thought out approach, the network provider made it possible for their postpaid subscribers to enjoy zero data wastage as well as the facility to accumulate unused data. A subscriber will be able to carry forward maximum of 200GB of data accumulated in a period of one year. It is a promise that the network provider is making to its subscribers giving them the confidence that their needs are well taken care of.