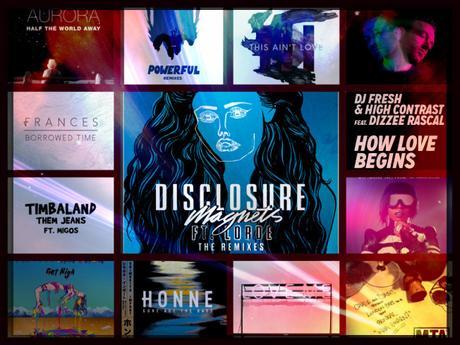 We finally made it to the last month of 2015!!! But before we start the celebrations and review the top tracks & albums of the year, let's take a look back at all the exciting music news & releases from the last 30 days.
Kicking off November, we had new music from Chase and Status with their epic London Bars Series ft Novelist, Giggs, Frisco and Bonkaz, while DJ Fresh and High Contrast teamed up with Dizzee for How Love Begins. Coldplay joined forces with Queen B for Hymn For The Weekend, and Missy Elliot made her triumphant return with the help of Pharrell with WTF.
Throughout the month, a number of exciting albums were announced such as The 1975's I Like It It When You Sleep, For You Are So Beautiful Yet So Unaware Of It (Feb 26) – surely a shoo-in for longest album title right? Santigold announced her forthcoming album 99 Cents (Jan 22) while Coldplay unveiled A Head Full Of Dreams (Dec 4). Underworld confirmed their first new album in six years titled Barbara Barbara, we face a shining future. This will be album's seventh album and is set for release March 18th. In light of the recent terror attacks in Paris, Foo Fighters released a free 5-track EP titled Saint Cecilia, which they dedicated to the victims who lost their lives. One Direction's Made In The AM went head-to-head with Justin Bieber's Purpose (an album which I refuse to like, yet find myself singing along to 'Sorry'.. it's ok to like one of his songs right?… right??) The head-to-head battle saw 1D come out on top (that's what she said) with Bieber narrowly missing out by 3000 sales. While 1D may have claimed the number 1 album, Bieber managed to knock Adele off the singles top spot with 'Sorry', while simultaneously having 8 of his other tracks in the top 40; an achievement no other artist has accomplished. Speaking of record breaking achievements, Adele's album 25, has become the fastest selling album EVER, selling one million copies in 10 days, breaking previous record holder Oasis, whose album Be Here Now reached 1 million in 17 days. Beat that Bieber!! Not only that, but the album topped 110 out of 119 iTunes charts. However users on Spotify and Apple Music are in for some bad news as Adele's album is not available on streaming platforms. Elsewhere in the charts, Elvis Presley kept Little Mix's Get Weird from the no 1 spot with his album If I can Dream, which saw the Royal Philharmonic Orchestra rework some of his classic hits. The Fight for the Official Chart's Christmas no 1 is just a few weeks away? Could it be the X Factor winner's single, The Lewisham & Greenwich NHS Choir or even John Williams' Star Wars Theme? Tune in to Greg James on BBC Radio 1 (Dec 25) to find out. 

With plenty of new tours announced next year, there's something for everyone. The 1975 will tour their album in March, which includes four nights at Brixton Academy, London (June 5,7-9), while Lethal Bizzle is kicking off his headline tour in Koko (April 29) and closing in Birmingham's O2 Institute (May 7). Underworld will support their new album with a series of live shows including London's Roundhouse (Mar 24-25). American band The Neighbourhood, confirmed news of their tour (March 18-21), while Rihanna finally hits the road again with Big Sean and The Weeknd for her Anti World Tour. Last but not least, Coldplay kick off their highly anticipated tour March 31st, with 6 UK dates including 3 at London's Wembley (June 16,18-19).
It's that time of the year again, where Capital's Jingle Bell Ball invades London's O2 arena (Dec 6) with an all-star pop lineup including performances from Coldplay, Little Mix, Jason Derulo, Bieber, Calvin Harris, Ellie Goulding, David Guetta, Nick Jonas, Sigma and Charlie Puth. Keeping with this festive theme, Kylie is set to perform a one off special 'A Kylie Christmas' at London's Royal Albert Hall (Dec 7).  If that's not your scene, there's plenty more gigs around the corner. Noel Gallagher is set to perform on BBC Radio 2's In Concert Series (Dec 7), while BBC Radio 1 Presents Coldplay (Dec 3) with a special Live Lounge performance with Clara Amfo, followed by a special live Lounge with Annie Mac later that day. The intimate show took place in St John's Church, Hackney and was streamed live online. Check out the full show here. As we head into new year, The NME Awards Tour kicks off in Cardiff (January 29) with headliners Bloc Party, Drenge, Rat Boy and Bugzy Malone completing the lineup. The first wave of acts to be announced for Live At Leeds include Jess Glynne, We Are Scientists, Circa Waves and Band Of Skulls. The event will take place April 30th to mark it's 10 year anniversary. Who says you need sun to enjoy a festival? How about some snow instead? Snowbombing Festival hits the Austrian Alps (April 4-9), with performances from Craig David, Bastille, Mark Ronson and Jamie Jones. Is it too early to talk about Summer Festivals? Queen & Adam Lambert have already been confirmed for the Isle Of Wight Festival (June 9-12), while Florence + The Machinen, Mumford & Sons and Take that are set to headline 2016's British Summer Time (July 8) at Hyde Park, with support from Wolf Alice and Alabama Shakes.
What do you 'Somewhere Only We Know', The Power Of Love' and 'Real Love' have in common? The John Lewis Christmas ad of course! You know it's really Christmas when the highly anticipated ad airs on TV and melts your heart with their touching story and unique cover song. This year was no exception, featuring rising Norwegian singer Aurora covering the 1998 Oasis classic 'Half The World Away', in aid of Age UK. As X-Factor draws to a close in the next few weeks, rumor has it Bob Dylan's 'Forever Young' will be this year winners single. Speaking of Simon Cowell, his 'Ultimate DJ' show has been cancelled before it even started, while Mel B is set to host the UK version of Lip Sync Battle on Channel 5, made famous by Jimmy Fallon and the spin off version with LL Cool J.  Elsewhere in TV, Adele sat down with Graham Norton for a BBC special, featuring a hilarious skit of Adele and multiple Adele impersonators. With Christmas just around the corner, it can only mean the return of Top Of The Pops. Yes the classic show will return for a special this Christmas and New Year with hosts Fearne Cotton and Reggie Yates, along with performances from Little Mix, Ellie Goulding, Rita Ora, Jess Glynn, James Bay and Sigma. 

November paved the way for some exciting collaborations. First up, Coldplay and Beyonce joined forces for their new single 'Hymn For The Weekend', while Noel Gallagher joined U2 on stage for 'I Still Haven't Found What I'm Looking For' and a Beatles cover of  'All You Need Is Love'. Dizzee Rascal teamed up with DJ Fresh and High contrast for their new single 'How Love Begins', while Kylie Minogue and Late Late Show host James Corden, kicked off the festive period with their Christmas duet 'Only You'. Corden also dueted with Alanis Morissette for a reworked version of her 1995 hit 'Ironic', which they updated with more culturally relevant lyrics.
In tech news this month, Ministry of Sound unveiled their latest music streaming service via their app Ministry of Sound LIVE. The app offers 24/7 stream across 8 channels: Chilled, Anthems, Running Trax, Anthem Hip-Hop, I Love House, Throwback, Throwback RnB and I am Raver. The app will also featured on demand remixes from Hardwell, Judge Jules, Mark Knight and Steve Aoki as well as a Live from the Club (Ministry Of Sound). Apple Music finally unveiled their app for Android users, however android users won't be able to sign up for family membership or access Apple Connect's music videos. (Short straw much?).  Facebook is set to introduce a new feature of sharing songs on their social network platform called The Music Stories, aimed at "enabling better music discovery and sharing". This new feature will allow users to share 30-second snippets of their chosen song, with links to stream and buy the track from Spotify and Apple Music. (only on IOS, Android to follow). Also on Facebook, the first 360 degree music video was posted by Nescafe, who teamed up with Google Cardboard for the exciting project.
Who doesn't love a bit of celebrity beef? This month's contenders include Skrillex vs Deadmau5, where Skrillex branded Deadmau5 a bully and a terrible leader. "I dont care bout ur personal career but the fact that u own ur own record label is sad.I feel sorry the artists you've signed..youre great at finding talented people but ur leadership skills are atrocious.'. However Deadmau5 was quick to hit back at Skrillex's recent collaboration with Bieber, yet also labelling himself as an EDM sellout in the process:  "Lemme borrow the lil popstar for a week, mash together a radio hit in 23 minutes." Skrillex later added:


Up next is Noel Gallagher vs One Direction, Arctic Monkeys, Adele, Alex Turner, Royal Blood…. well pretty much everyone. Speaking with Esquire magazine, the former Oasis star laid into his fellow music artists in a series of rants branding One Direction as "Cocksuckers, all of them in rehab by the time they're 30", Even Adele couldn't escape his wrath: "Adele, what? Blows my f**king mind. It blows my f**king mind. Nobody cares!". He also took a shot at his fellow "so called rock stars": "This new generation of rock stars, they look great: Alex Turner, Miles Kane, the guys from Royal Blood. They've got the f**king skinny jeans and the boots, and all that eyeliner.  "I've got a cat that's more rock'n'roll than all of them put together. Pigeons? Rips their f**king heads off." Oooh the gloves are off!!
Who doesn't love a good awards show? The MOBO awards took place at the First Forect Arena in Leeds (Nov 4), with Grime star Stormzy and hip-hop duo Krept and Konan taking home two prizes each. Other winners on the night included Wiley who received the Paving The Way Award, while Cee Lo Green, took home the Outstanding Achievement Award. Check out the full list of winners here.  One Direction and Ed Sheeran were big winners at the The BBC Radio 1 Teen Awards (Nov 8) while Taylor Swift, One Direction, The Weeknd, and Nicki Minaj dominated the AMA Awards (Nov 22). One of the most coveted awards in the UK is the Mercury Prize for best album. This year, Benjamin Clementine beat off competition from Jamie xx, Florence and Wolf Alice with his album At Least For Now.  Elsewhere, Jack Garratt, Frances and Izzy Bizu were nominated for the BRIT's Critics Choice Awards, with Garratt taking home the top prize (Nov 20). He follows in the footsteps of previous winners such as Adele, James Bay and Sam Smith – not bad company! Still to be announced is BBC's shortlist for the Sound of 2016. This years' longlist include artists such as Alessia Cara, Loyle Carner, Francis, Jack Garratt and Mura Masa. Tune into the Radio 1 Breakfast show in January for the top 5 shortlist, with the winner being announced January 8th.
Any guesses who's topped Forbes magazine's Highest Earning Woman in Music? Taylor Swift? Lady Gaga? Beyonce? Nope! Katy Perry topped the list, thanks to her Prismatic World Tour, which raked in $135million. Don't worry though, I'm sure Taylor Swift can sleep easy with her $80 million in earnings. Anyone have a spare $2.4 million lying around? You could have been the lucky owner of John Lennon's guitar which recently sold at an auction in California. While the buyer has chosen to remain anonymous, half the proceeds will go to the Spirit Foundation, originally set up by Lennon and Yoko Ono.  Ok, another question for you. Any guesses on the longest reign in the charts by a British artist? Ed Sheeran of course. His album X spends its 73rd week in the top 10 and his since gone on to sell 10 million copies and gone platinum a record breaking 59 times. However, in terms of streaming, Bieber currently holds the records for most-streamed first-week release with his album Purpose raking up 205 million streams on Spotify in a week.

So that's it for another year. Stay tuned for my yearly round up in December which will include my Top Albums, Top Tracks, Top remixes and Ones to watch for 2016. Now, onto the music. Check out November's selections below:
1) Disclosure – Magnets Ft Lorde (Disclosure VIP and Jon Hopkins Remix)
First up this month, are Disclosure with their very own VIP remix of Magnets. Guy and Howard infuse the already infectious single with bags of energy, giving it that classic club vibe. While the single has since been remixed by the likes of Tiga, A-Trak, SG Lewis and Loco Dice, one that stands above the rest, is the unique reworking from Jon Hopkins, whose remix prompted Disclosure to call him a 'legend'. Hopkins' reworking of Magnets adds such depth and creativity, creating a truly textural and transcendent experience. Sit back and enjoy the 6.15 experience, as Hopkins elevates Magnets to a whole new level.  Upcoming for dates for Disclosure include The Sydney Opera House (Jan 5)  while Jon Hopkins is also in Australia for Let Them Eat Cake on New Years Day
2) Major Lazer – Powerful (D.R.A.M Remix)
Having released their album Peace Is The Mission back in June, featuring the record breaking single Lean On ft MØ, Major Lazer have followed up with Powerful ft Ellie Goulding and Tarrus Riley. While the single has since been remixed by various artists, Virginia rapper D.R.A.M puts his own spin on it, even adding his own vocals throughout. With more defined beats and a bouncy new energy throughout, dare I say D.R.A.M's remix eclipses the original! Download your free copy here!  Check out D.R.A.M's latest EP Gahdamn, which was released end of October. 
3) Aprés – This Ain't Love ft Andrea Martin
22 year old Producer/DJ Aprés, unveiled his latest single This Aint' Love ft Andrea Martin.  The single serves as the follow up to the highly-received single 'Chicago', with great support across Radio 1's Dance Dj's. Aprés serves up some stylish synths, mixed with driving basslines and Andrea Martin's captivating vocals at the helm.  The remix package features Sick Elektrik, Pete Graham, Worthy, Sinprint and a 4AM remix from Aprés himself, due December 11th. having recently performed at Warehouse Project with Annie Mac, upcoming dates for Aprés include Snowboxx Festival in April. 
4)  MJ Cole – Alcatraz
This is one track sure to get you going on a Friday night – Oooof! MJ Cole premiered his new single Alcatraz with Annie Mac on Radio 1. With its infectious rolling tribal beats throughout, Alcatraz serves up some infectious beats and rhythms. The single is set for release via Redlight's Lobser Boy Records (Date TBC). Upcoming dates for MJ Cole include Ministry of Sound (Dec 19) and The Warehouse Project on New Year's Eve. 
5) Frances – Borrowed Time
Frances featured in my September Selections with 'Let It Out' and now she's back with her latest offering 'Borrowed Time'. There's something different about her latest single and it might have something to do with a certain Disclosure brother. Frances veers away from her trusty piano, delivering a more electronic vibe courtesy of none other than Howard Lawrence. Howard's glossy electronic influences are so distinct throughout, with Francis' effortless vocals effectively accentuated throughout. Upcoming dates for Frances include Notting Hill Arts Club (Dec 6) and Union Chapel (Feb 18)
6) Timbaland ft Migos – Them Jeans
Timbaland unveiled his new single 'Them Jean's' ft Migos and serves as the follow up to Timbalands collaboration with Tink and Future on 'UFO'. 'Them Jeans' serves up some serious beats, with hip hop trio Migos (Quavo, Takeoff and Offset) delivering slick flows throughout. 'Them Jeans' is taken from TImbaland's forthcoming album Textbook Timbo, due later this year via Interscope Records, and features collaborations from Justin Timberlake, Drake and Missy Elliot.
7) Kill Them With Colour – Get High (VIP)
Canadian producer Wesley Marsh (AKA Kill Them With Colour) , unveiled a VIP remix of his single 'Get High'. With it's wobbling synth-drenched effects, glitchy vocal loops and all around chill-hop vibes, Get High packs a serious punch, bringing Flume's remix of Disclosure's 'You and Me' to mind. Get High and remixes are available now via Chase & Status' MTA label. Upcoming dates for the producer include Pier 36 in New York (Dec 27).
8) Honne – Gone Are The Days
London based duo Andy Clutterbuck and James Hatch, aka Honne, featured in my monthly selections twice before with 'Loves The Jobs You Hate' and a reworking of SG Lewis' single 'Shiver'. Their latest single 'Gone Are The Days', premiered as Annie Macs Hottest Record, and delivers their trademark ambience and groove with their chilled synths, mellow piano lines and Andy's gritty vocals throughout. Gone Are The Days is taken from their forthcoming EP of the same name, due Jan 22. Upcoming dates for Home include a headline show at London's Electric Brixton (Mar 3)

Check out November's playlist below with over 50 minutes for your listening pleasure!