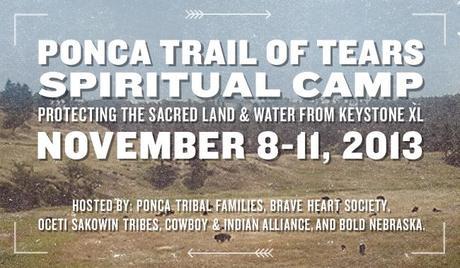 from BOLD Nebraska
Descendants of the Ponca Tribe will host a Spiritual Camp in Nebraska from Nov. 8-11, to draw the line against the Keystone XL pipeline's potential destruction and disrespect to the sacred sites along the Trail of Tears of the Ponca Nation.
Invited are descendants of the Ponca Tribe and all allies who wish to preserve the significant history of this sacred site against tarsands development. All faiths are invited to come pray with the Ponca descendants and allies for the preservation of Mother Earth for four days during this spiritual camp. The sacred fire will be lit at 2:00 p.m. on Friday and burn until sunrise on Monday. The spiritual camp is hosted by Ponca Tribal families, Brave Heart Society, Oceti Sakowin supporters, the Cowboy and Indian Alliance, and Bold Nebraska. More information also available at ProtectTheSacred.org.
Visitors are welcome to camp overnight at the spiritual camp, on land near Neligh, Nebraska on the KXL pipeline route. (Many thanks to Art and Helen Tanderup for graciously offering their land for the camp.) There are also nearby accommodations that include the Delux Motel (402-887-4628) and West Hill View Motel (402-887-4186), and additional options in Norfolk, NE about 40 miles away. If you're unable to join us this time, other Spiritual Camps will rise up in November, December & possibly January, hosted by the Sicangu (Rosebud); Ihanktonwan (Yankton); and Minneconju (Cheyenne River).
Please use the form below to register to attend the Spiritual Camp. For any questions, contact Faith Spotted Eagle at [email protected] or (605) 481-0416.
PONCA TRAIL OF TEARS SPIRITUAL CAMP
November 8-11, Neligh, Nebraska
FRIDAY, NOV. 8

2:00 p.m. — Opening Fire, setting up tipi, opening prayer songs.

SATURDAY, NOV. 9

12:00 p.m. — Communal meal.
1:00 p.m. — Welcome visitors, tribes, ranchers. Share stories of the land all afternoon.
EVENING: Shared dinner at ICON ranchers conference, at the O'Neill Community Center in O'Neill, NE (401 E Fremont).

SUNDAY, NOV. 10

12:00 p.m. — Communal meal.
AFTERNOON: Speakers to include spiritual leaders, tribal leaders, ranchers & allies. Prayer Ceremony for Mother Earth.
EVENING: Communal meal.

MONDAY, NOV. 11

SUNRISE: Close of fire, sending prayers to Mother Earth for protection of the land from the tarsands, Keystone XL and destruction.

DIRECTIONS:

From Neligh: 8 miles north on HWY 14 to 857 RD, west 2/3 of a mile, then north up the lane
From the junction of HWY 20 and HWY 14: 7 miles south on HWY 14 to 857 RD, west 2/3 of a mile, then north up the lane
Registration is at the BOLD Nebraska website: http://boldnebraska.org/ponca