*WINE NOT by SALLY HANSEN  Complete Salon Manicure*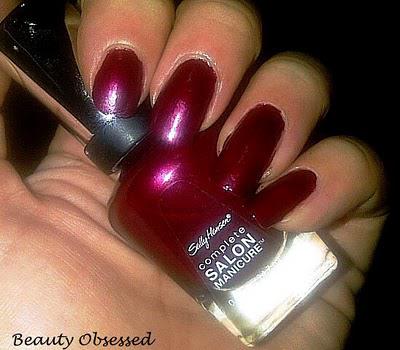 I actually found this color in my mom's room the other day and thought it was a really pretty fall color. Usually I don't like any of the colors my mom has. Today was a bad day to try and take a good picture because it was rainy and cloudy out so there wasn't any natural light. So the color you see in the picture looks lighter than it is in person. So picture that color but not as glossy and a bit darker. When I'm looking at my nails now, its more of a burgundy color that reminds me of fall. That's why I like it. Damn camera, it never captures the real color. But the color is called Wine Not and its by Sally Hansen's Complete Salon Manicure line.
I'm very picky when it comes to the size of the brush. For example this brush is short and a little on the wide side. I like the brush to be a medium width and long. Call me picky, but when the brush is to short and wide I feel like its harder to apply the polish. Besides the brush, the color went on easily and it seemed to dry quick. I had to apply 2 coats, the 1rst coat definitely wasn't cutting it. As much as I love trying designs or nail  art, I felt like this color looked pretty by itself. 
**Happy Fall Colors**