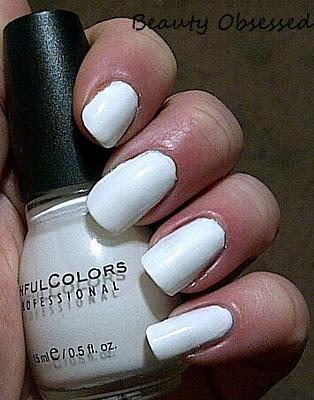 I had the urge to paint my nails white for some reason but I didn't have a good white polish in my collection. So I went to Twitter to find out which brands made a good white nail polish. You know how white needs to be applied very evenly or it will look messy, well someone said that Sinful Colors made a nice one and I do love that brand. I went to my local Walgreen's and found Snow me White for only a $1.99.
I was very pleased with how nice and even it came out. I needed to use 3 coats to give it that bright opaque finish I wanted.
I bought this really pretty glitter polish called Rock Star Pink by Sally Hansen's Xtreme Wear a few weeks ago but haven't had the chance to try it yet. So I layered it on top of the Snow me White.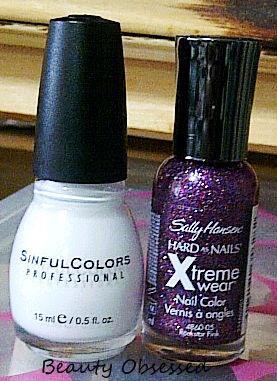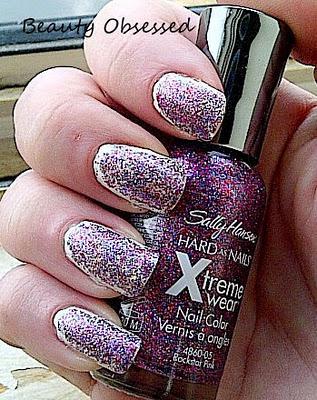 Unfortunately, I'm not too impressed with the final look or the formula of the polish. I only used one coat of the glitter and even though I tried to apply a thin coat the polish it seemed to be applying in globs, like when you have a really old bottle of nail polish and it doesn't apply evenly anymore. Except, I just bought this, so I don't know if that's the way it was supposed to be or not.
After the second nail, I knew i wasn't in love with the way it looked, but honestly I didn't feel like starting all over again lol. Plus I wanted to show you guys what it looked like. It might be a little of my fault actually, maybe I didn't apply the glitter polish evenly, but it seemed hard to do that bc of the thickness of the polish.  I guess it's not horrible, will see maybe it will grow on me.
Click the links below :)
Follow my blog via GFC
Follow me on Twitter