Happy Thanksgiving!!! I hope everyone eats lots of turkey, if you like turkey, me personally do not.  I don't know if some of you remembered the NOTW  I had just posted a few days ago, well I deleted it and removed it from nails. I wasn't really feeling the way the mani came out. I don't think I liked the color combo and these were supposed to be my Thanksgiving nails so I wanted something a little more festive.
Okay, so now onto my new and improved NOTW: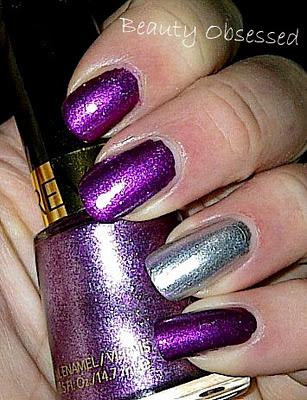 I used two coats of Fierce by Revlon on all nails except my two ring fingers. This color is a bright but deep shiny fuchsia with a little bit of sparkle.  I could have gotten away with one coat but since this color was so pretty with just one, I had to see what it would look like with two coats. It just deepens the color but not by much. This color is definitely a one coater which makes my day. I wish I could get away with one coat with every polish! It was extremely easy to apply, I had no problems with the brush and it dries really fast.  It dries to a foily finish and I love it. Then as always, I followed up with my Sally Hansen's Insta-Dri Top Coat and Speed Drops.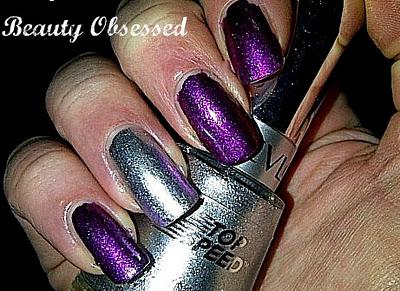 The color I used on my ring fingers is Metallic by Revlon, a standard silver foil. That's exactly what it reminds me of too, a shiny tin foil. This was also a great formula just like Revlon's Fierce but this color was made by their Top Speed Dry line. Even though it did dry fast I didn't see a difference between  the Fierce which isn't a Speed Dry color. They both dried really quick though. This is another one coater,  I did apply two coats just to see if there would be a difference and there really wasn't. I thought this color combo went well together and it looks a lot more festive then my last mani. Both of these polishes cost $4.99 at my local Rite-Aid, not too bad considering  how good the quality is.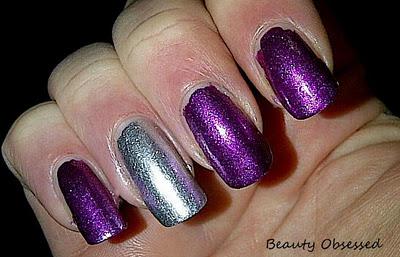 It's safe to say I'm really enjoying Revlon's new polishes, I own three of them now and I've had nothing bad to say about any of them. If you wanna see what the other color, Gold Coin looks like click here.
The

pictures were all taken with the flash on so that's why they look extra sharp and the camera gives the fierce more of a dark purple look when it's a lot lighter than that. The silver is right on though. It's so hard sometimes when taking nail pics to capture their true colors.
Click the links below :)
Follow my blog via GFC
Follow me on Twitter