I was looking through my nail polish collection and decided to use Avalanche by China Glaze. I bought this color a few months ago and forgot about it so it's the first time I used it. I was a little disappointed because looking at the color through the bottle I thought it was going to come out a little bit darker with more of a matte finish.  After applying the second coat I realized that it had more of a shiny glossy finish.  Don't get me wrong it's a pretty color and I like glossy finishes, but it depends on the color. I do like the brush China Glaze has, it's the perfect length for me and it's not too wide.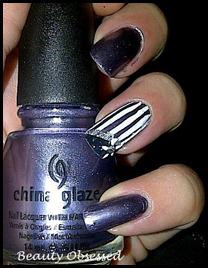 Of course I had to have a design (that's my new thing lately), I'm not very good at it but its fun. I realized that I never tell you all the products I use when I post these nail looks, shame on me lol.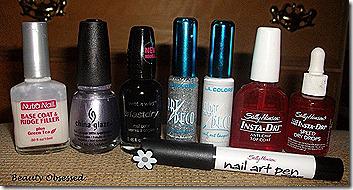 1. NUTRA NAIL BASE COAT & RIDGE FILLER-  sometimes I have annoying ridges in my nails and I like this base coat because it helps create a smoother surface for the nail polish.
2. AVALANCHE IN CHINA GLAZE- I really do like China Glaze, one of the reasons bc it seems like they sell every color in the rainbow and more. I hate when a brand doesn't have a wide selection of colors.
3. WET N WILD FAST DRY IN BLACK- I used this for the black diagonal french tip I did. I'm really impressed with wet n wild's new polishes, they've came along way.
4. L.A. COLORS ART DECO IN SILVER GLITTER- If you guys read my blog you know I love these art deco polishes. I used this for the silver line painted underneath the black tip.
5. L.A. COLORS ART DECO IN WHITE- this was used to draw the vertical lines on my nail. *tip- I heard if you hold your breath while trying to draw straight lines or if your hand is shaky it will help and it does!
6. SALLY HANSEN NAIL ART PEN IN WHITE- I used this to draw the tiny flower petals that are on the tip of my nail. These are good pens for drawing flowers, hearts or whatever you want. You just have to make sure the polish you have on is completely dry before using these pens or it will bleed into your base color. Then I placed a silver rhinestone from my nail gem collection for the middle of the flower. *when using any kind of nail gems or stones make sure to press the stone on the nail for a few seconds with either your finger or the tip of an orange stick, then apply extra top coat after placing the stone or gem.
7 & 8- SALLY HANSEN INSTA-DRI TOP COAT & INSTA-DRI SPEED DRY DROPS-  I hardly ever have a problem with my nail polish chipping and I'm convinced it's because I use both of these products together. After you apply the top coat you only have to wait 60 seconds to use the speed dry drops. There great, you just use the dropper to apply 1 or 2 drops to each nail and its extra protection. If you find your nail polish is  chipping too soon, I recommend either the regular top coat but if you can the speed drops too.