Out Of This World by Sinful Colors
When deciding on what color I wanted to use this week, I really didn't know. All I knew was I wanted to do something different this time. You guys know how I love playing around with different desings and looks.
I found
Out of this World
by
Sinful Colors
in my collection and practically had to dust it off. I couldn't even tell you when I bought it but it had to be a long time ago. Anyway, its your normal silver polish with some shimmer, It reminds me of tin foil lol. What you see in the picture is 3 coats. I hardley ever apply 3 coats (I'd rather apply 1 all the time if I could get away with it). But I wanted a bold look, not a sheer one. Let me tell you one thing though, it took forever to dry! Even after a half hour I smudged a nail.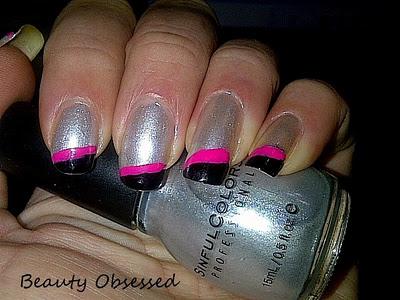 NO FLASH
Then I made a diagonal french tip with black polish by Sally Hansen. I was going to leave them like that but I felt like it was missing something. So I looked through my box of Art Deco nail art colors and used a hot pink to paint a thin line directly underneath the black. *As you can probably tell, my hands were a little shaky!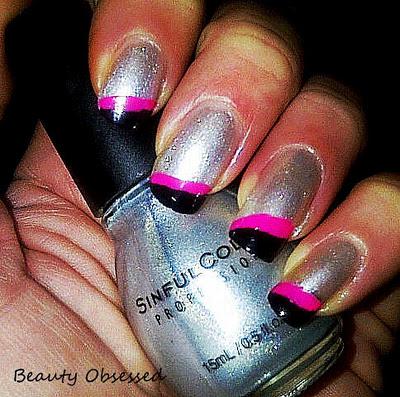 WITH FLASH

Unfortunatly it was a rainy cloudy day so I couldn't get better quality pics like I would with natural light. These will have to do.