I painted my nails in
Midnight Blue by Sinful Colors.
A very pretty deep blue with a glossy finish. The formula was pretty easy to apply just like most Sinful Colors are. Maybe this was just me being sloppy, but I noticed that I got more polish than usual on my skin so I  think it might have been a little runny. Besides that though, I'm pleased with this color and I cant remember the last time I painted my nails a dark blue.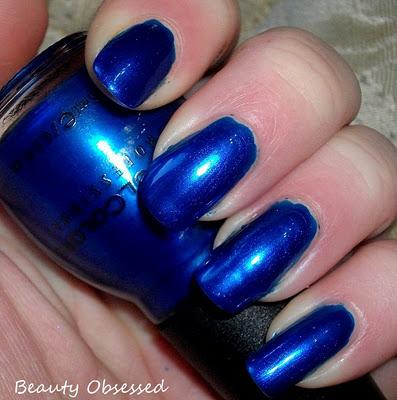 (Picture was taken in the sunlight. Excuse the mess, this was before I cleaned around my nails)
I used plain old scotch tape to section off where I wanted to  paint just the tips. You can use scotch tape to do all sorts of designs on your nails. All you do is cut the tape how you want the design to look.  It's pretty cool because you don't need any special nail tools, just tape. I've seen a lot of different designs on the web that were used by cutting different sizes and shapes of tape. I didn't do anything special like that, I used the tape to paint the tips like this.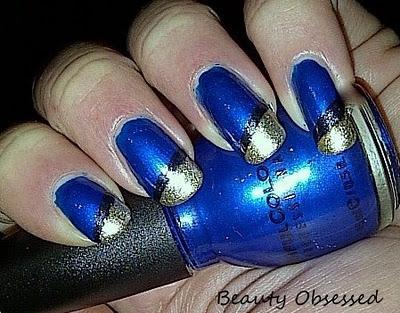 I picked gold because I thought the dark blue would like nice together but now I'm not too sure if I like the color combo. It almost reminds me of my high school colors lol. Maybe I just have to get used to it. I used one of my favorite golds by
Revlon in Gold Coin.
Then right underneath where the gold ends I used one of the
Art Deco polishes in black
to draw the thin line. 
BEFORE APPLYING TAPE TO YOUR NAILS:
Make sure you stick the tape to the back of your hand and then remove a few times to get most of the stickiness off.  
When placing the tape onto the nail, try and ensure that there is no spaces between your nail and the tape or the polish wont apply evenly. 
Do one nail at a time so you can remove the tape immediately after applying the second coat over the tape. This way you should get a nice even line. 
The second color you use should be a one coat polish, this way you wont have to wait for the first coat to dry because by that time you should have ripped the tape off. 
What do you guys think of the blue and gold together, yay or nay?
 Have you ever used scotch tape to do a french manicure or to make different looks? 
Click the links below :)
Follow my blog via GFC
Follow me on Twitter