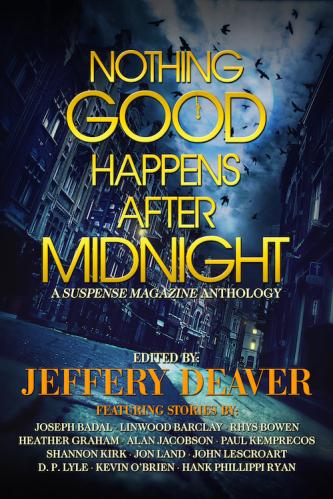 Didn't your parents tell you that nothing good happens after midnight? They were right. Check out this stellar collection of down and dark short fiction.
Links To Order Your Copy Are Here: http://www.dplylemd.com/book-details/nothing-good-happens-after.html
From the Introduction:
In D. P. Lyle's "Tonic" a couple of good old boys in rural America are cruising the backroads in an ancient pickup and simply pursuing the American dream of trying to make a living. Who could blame them? And, a more cogent question, what could go wrong? Oh, a thing or two, especially when they decide to explore a new business model and attract a little more attention than is wise. The cast includes a great small-town sheriff and a medicine man you won't soon forget, try though you might.
Jeffrey Deaver, Editor, Nothing Good Happens After Midnight
What others are saying about NOTHING GOOD HAPPENS AFTER MIDNIGHT
"Something very good happens after midnight...just pick up this brilliant book and be transported-and very afraid!" -Peter James, UK #1 Bestselling Author of the Detective Superintendent Roy Grace Series
" NOTHING GOOD HAPPENS AFTER MIDNIGHTis a treat- dark, chilling, and delicious. Grab it." -Meg Gardiner, Edgar Award-Winning Author of The Dark Corners of the Night
"NOTHING GOOD HAPPENS AFTER MIDNIGHT proves that the witching hour still has the power to haunt in this suspenseful collection of stories by luminaries in the literary world. Inventive, twisted, and downright chilling, here is an anthology to be savored- well past midnight and into the dead of night." -James Rollins, #1 New York Times Bestseller of The Last Odyssey
"This anthology showcases some of the best talent in the thriller genre-or in any genre. Whether quirky or creepy, each story displays the talent and uniqueness of its author. And since all are so good, this collection is a delightful read." -Sandra Brown, #1 New York Times Bestseller of Thick as Thieves
" NOTHING GOOD HAPPENS AFTER MIDNIGHTis loads of fun. The stories from this lineup of all-star authors are a blast to read, with plenty of neck-snapping twists and heart-stopping thrills that will keep you turning pages way past the title's witching hour." -Boyd Morrison, #1 New York Times Bestselling Author
"If you like intrigue and suspense, you'll love this salmagundi of tense tales from some of today's short story masters. This book is guaranteed to keep you awake until midnight and beyond." -Steven James, Bestselling Author of The Bowers Files

"Readers rarely get a gift such as this-a superb collection from the giants of mystery and suspense."-Robert Dugoni, Bestselling Author of the Tracy Crosswhite Series
"Midnight is the magic switch. Safe becomes dangerous, good becomes evil, quiet turns raucous. When the clock strikes twelve in NOTHING GOOD HAPPENS AFTER MIDNIGHT, a talented crew of writers unleashes a maelstrom of thrills so intense, you will never sleep again. Unputdownable!" -K.J. Howe, International Bestselling Author of SKYJACK
" NOTHING GOOD HAPPENS AFTER MIDNIGHTis a treasure chest of novelties, curiosities and gems. From Kevin O'Brien's 'Cell Phone Intolerant' to Shannon Kirk's 'Tonight is the Night' and Jon Land's surprisingly heartfelt 'ATM,' you'll never step outside at night in quite the same way." -Joseph Finder, New York Times Bestselling Author of the Nick Heller Series