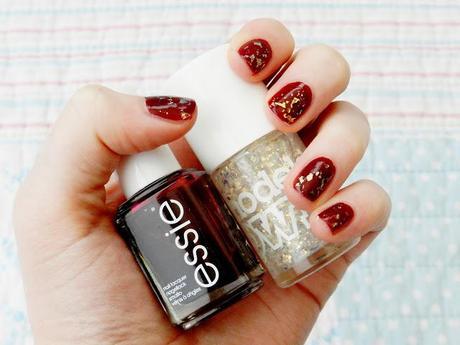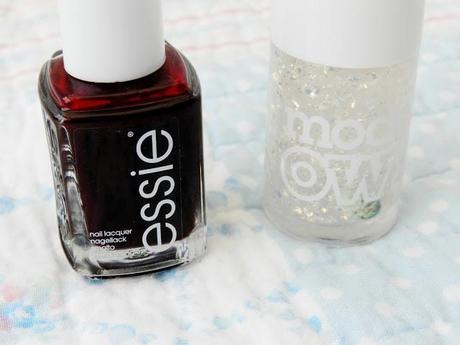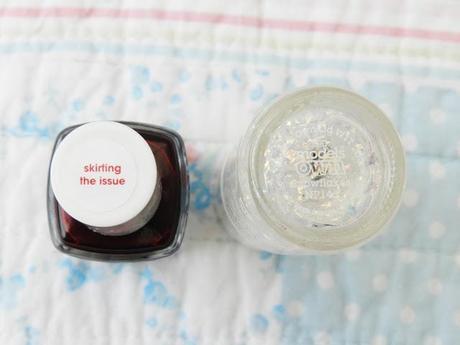 Essie "Skirting the Issue" - £8.50Models Own "Snowflakes" - £5.00
I think I may have found my perfect Autumn/festive nail polish combination. "Skirting the Issue" is a gorgeous deep red with brownish undertones and is part of the new Essie Autumn shades collection. It looks fabulous on it's own and when I picked it up, my intention wasn't necessarily to layer it with another polish.
However, after seeing the new Model's Own Wonderland collection reviewed by Emma over at Milkteef I fell in love with the shimmery shades and decided I had to pick some up for myself. Top of the list was this "Snowflakes" polish - not only is it super pretty, it also has the most festive name imaginable, so I fell victim to this clever ploy as well!
Once I got them home, I saw the two polishes next to one another, thought what a lovely combination they might make and voila! I really love how when the glitter catches the light it reflects a rainbow of colours - gold, silver, blues and greens - absolutely gorgeous. It also looks fab layered over pastels - I've tried it over "Bikini so Teeny" and it looked beautiful, so it's very versatile.
I would definitely recommend getting your hands on both these polishes - they are perfect for these colder months and the upcoming festive season if you ask me! :)
Has anyone else tried the other shades available in the new Essie/Models Own collections? If so, which ones were your favorite and were you impressed?