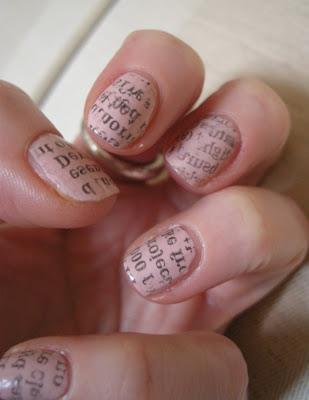 I was browsing the internet last night and stumbled across a photograph of a Newspaper Manicure. As it was already 11pm and time for bed, what could a girl do but immediately give it a go!
Here's what you need:
1.  Opaque Nail Varnish, a pale color of your choice (I used e.l.f Fair Pink)
2.  Newspaper (I grabbed the nearest free rag, but quite hanker for something more high-brow, I may even try to pick up an old Jane Austin Novel in a charity shop....not that I think it makes much difference just the romantic in me!)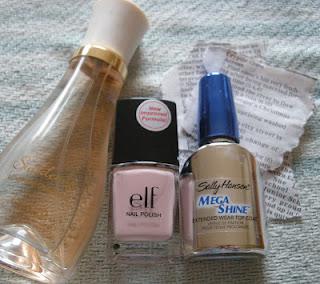 3.  Alcohol (as I didn't have surgical alcohol or a white spirit such as Vodka, which in any even I would reserve for personal consumption, I had a brain storm and grabbed my Lidl Suddenley Madame Glamour, the Coco Madmoiselle dupe)
Method:
1.  Paint Nails and ensure they are thoroughly dry.
2.  Spray nail with alcohol of your choice (or dip)
3.  Carefully apply newsprint, pressing down in a rolling motion and remove.
4. Apply Top Coat.
Pretty good eh?  Yes this was only a first attempt and it was late, you can see a couple of smudges on my middle and index fingers but I'm definitely going to try this again.  Maybe even on both hands!!  I still yearn for Jane Austin nails though....
Laters Peeps!
Love Lainey
xxx