Hey Dolls!! 


So this is my 2nd Holiday themed manicure of the month. For some reason I could not decide on what colors or designs I wanted to do. I was looking through my polish stash and saw Blue Lagoon by Revlon and then it came to me, snowflakes and winter! I bought this color a few weeks ago, its part of Revlon's 2011 Romantic Collection. It's basically a baby blue with pretty iridescent shimmer. So anywho, onto the mani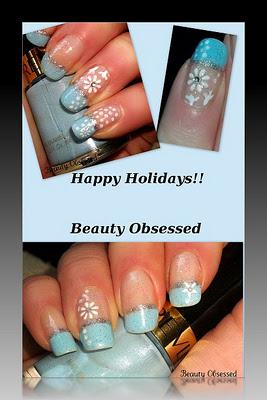 For a base color I used Vanilla Whimsy from Sally Hansen's Maximum Growth Plus Collection, its basically a very sheer pale pink. The kind of color you would use under a french manicure. It's not even visible on my nails but I had to use something.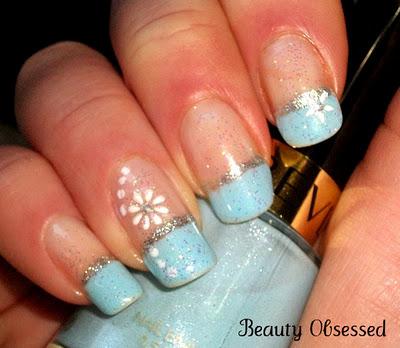 Then I used good old scotch tape and taped off my tips and painted them with Blue Lagoon. I used a Art Deco Nail Art polish in silver for the thin line underneath the tips. Then I got out some white nail polish a few small rhinestones, my nail art brush and my dotting tool to create the snowflakes and tiny snowballs (that's what I'm calling the white dots lol). I was very surprised at how easy it was to draw the snowflakes, I thought for sure I would mess it up but you're basically just drawing lines in different lengths.
After all that was dry, I sealed it with one of my 2 favorite top coats, Sally Hansen's Insta-Dri Anti Chip Top Coat. I've probably said this in previous posts before but I really believe that this top coat is the reason my nails never chip and the fact that I usually use 2 top coats.
Then I used one coat of a clear silver glitter, I'm still not sure if that was a good or bad idea. I wanted to give my nails a little glitz.  You guys tell me what you think, should I have used the glitter, Yay or Nay?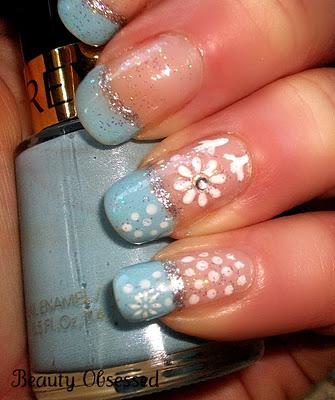 I topped everything off with 2 thin coats of my second favorite top coat, Seche Vite's fast dry top coat. I love how this can make a dull nail color come to life and the professional look it gives and how your nails are dry to the touch in 30 seconds.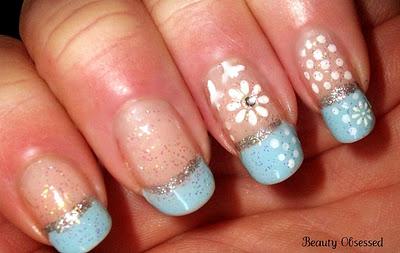 So let me know what you guys think, honestly. I love feedback, good or bad. Do you guys enjoy doing Holiday manicures or am I the only weirdo that gets really into this? lol