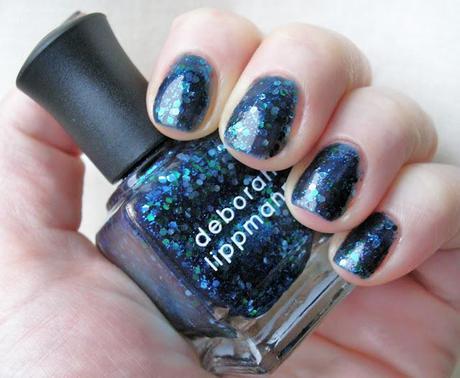 Ever since I received the Deborah Lippmann Razzle Dazzle mini polish in December's Glossybox I've been a   little obsessed with the Deborah Lipmann brand!  Deborah is a celebrity manicurist who has worked with just about every A-list star you can think of, you can check out her portfolio here.  There's also a great manicure tutorial from the lady herself here.  I used to play it safe with nail polish and tended to stick with a French Manicure or just a pale pink, in fact a few short months ago I'd have told you I was too old to wear blue and green glitter nail polish. Pah! I'm embracing my mid-life crisis!
Now each polish in the Deborah Lippmann range is named after a song and I've been lusting after Across the Universe (The Beatles) for such a long time but just couldn't justify the price tag (oo see what I did there Jessie J fans ;)).  So I was delighted to be able to snap this up from the lovely Lipstick Fridays in a blog sale!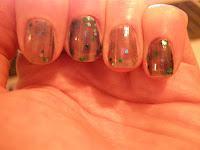 The polish has a midnight blue jelly base so is quite sheer with one application, but it's a great consistency to apply and builds easily.  When applying glitter polish I find it best to just wipe one side of the brush on the neck of the bottle so you don't lose all those lovely chunky bits.  A quick dab will also rectify and bits devoid of glitter.
You could get away with 2 coats of this polish, especially if you used another dark blue as a base but I chose 3 coats of Across the Universe alone and isn't it gorgeous? Here's a close up so you can see the fantastic hexagonal glitter in blue and teal and also the finer sapphire sparkles!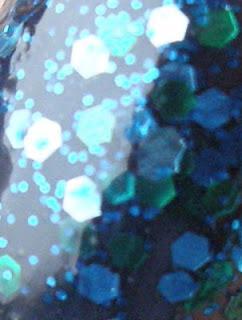 It's definitely one of those 'I just can't stop looking at my nails aren't they fabulous' sort of colours!!  
 If you're feeling rich you can buy this from House of Fraser for a whopping £16 here! or from Beauty Bay who are currently offering free delivery here.
I
 really love the classy glass bottle design and the lipped lid which makes it so easy to hold when applying. However, if you are looking for a dupe I know of a couple out there.  Revlon Blue Mosaic and Essence Blue Addicted.  Unfortunately, to my knowledge, neither are available in the UK. Boo!
Laters Peeps!
Love Lainey xxx