Ahh, the sun is shining, the sky is blue and the smell of Spring is in the air. The problem being that this may be the case at the point of writing this blog post, but since I'm writing it in advance, it may not be the case when it actually goes live. So, if it is piddling down with rain, feel free to revel in your revenge, with the knowledge that I have probably gone to trawl the streets of Lincoln, in the most un-rain-friendly coat invented by man (and you know it was a man, because water always marks the bloody thing. No woman would have allowed that!!)
But, anyway, with the smell of Spring in the air, as I write this, I decided that it was time to whip out some Spring-inspired nails. I wanted to use a color that represented a part of Spring, and since I'm not really up on wearing yellow (even though I own two yellow shades!!), and I didn't really fancy green, I settled on an absolutely gorgeous pale blue, from Rimmel. After spending so long cooing over the more expensive ranges of OPI and China Glaze, it really is night to delve back into the more reasonably priced range of Rimmel, who will probably always be my favorite range, in terms of color (although OPI is vastly gaining speed!)
So, this is how they look: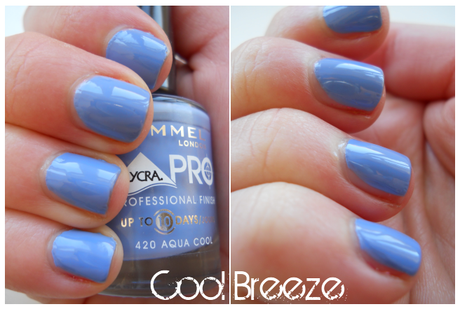 As you can probably see from the picture, I used Rimmel's Aqua Cool Polish for this look. And, unfortunately, it appears to be one of those colours that just doesn't do itself justice on camera, even with natural lighting.
The images make it look like a pale blue, but in reality it's a little bit darker and has a more Lavendar kind of colouring to it than blue, in my opinion. But, I wouldn't say that it is Lavender in colour, it is definitely a blue shade, but there's just something else there that makes it a bit of both. God, I hope that makes sense, because I do think that it's a difficult color to describe. In that sense, it reminds me of another Rimmel polish, which I "think" was called Blue Me Away, which is a product that I reviewed almost two years ago.
Blue Me Away, was just like this polish in that it advertised itself, in name especially, on being a blue polish, however, there was always something more dark purple about it. I remember when I bought it, I bought it for the main purpose of matching a dark purple top, and all the way home, I was convinced that it wouldn't match, because the top was purple and the polish was "officially" blue. But, I am so glad that I stuck to my instincts, because the purple tones in that blue polish, that yes, most definitely was still a blue polish, worked so incredibly well with my top. I'm thinking that that post might be worth revisiting. I might have to re-purchase the polish (as if that would be a problem) and show it to you against that top, which I do still own.
But, feel free to check out the original review from years gone by, just in case I can't find the polish ARGH!
Going back to the actual product in question, I just want to add that this polish has amazing application. When I was applying it, I noticed that it was starting to look streaky, but by the time I'd finished my hand, I went back to look again, and they didn't any more. It was like it had magically smoothed out.


Anyway, what do you think to this polish? 

Perfect for Spring?