I honestly can't believe how quick Christmas snuck up on me this year, I feel like I was just laying out in the sun. Time goes by way too quickly and Im not sure I like it This is probably going to be my last Holiday Themed Mani  since Christmas is what, only 3 days away?! I really wanted to do at least 2 more but for some reason I've been busier than I thought :( Oh well, I cant wait to do New Years Eve nails. Those are gonna be fun :)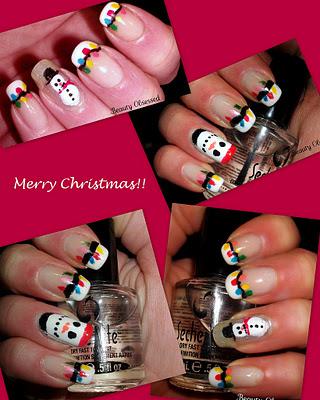 This mani took a lot more time than my others because it included a lot more steps. I first did a normal french manicure on all my nails except for my two ring fingers. Then I added the black cords for the lights and used a bunch of my Art Deco Nail Art Polishes for the Christmas lights.
On my left hand I painted a tiny snowman and on my right hand I painted just the snowman's face. I'm a little dissapointed that my little snowman came out lop sided on my nail, but it's okay.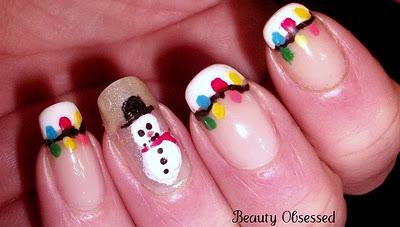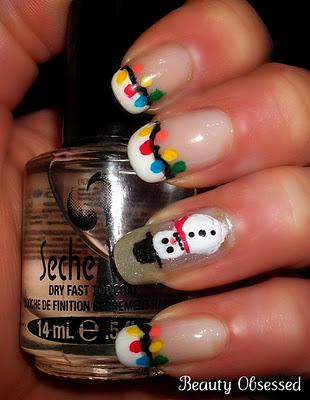 I'm sure you can tell how bad the lights on my right hand came out compared to the ones on my left hand (I'm right handed). Another oops! But I am pretty happy with how the snowman's face came out.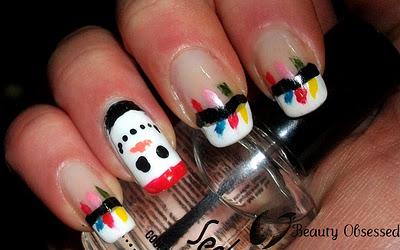 Overall, Im pleased with the way they came out, I'm not a professional so I can't expect my nails to look like they were professionaly done :)))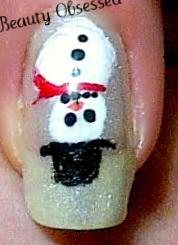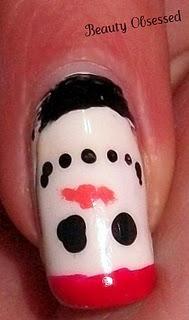 Even though it's a few days earlier I wanna wish all my followers and anyone that see's this a Safe Happy Holiday!!! Love you all :)))



Click the links below :) Follow via GFC Follow me on Twitter