I had a bit of fun tonight and had a go at a little bit of nail art, this is the first time i've ever tried something like this and I should have started off with something easier.
I don't know if anyone else used to watch Button Moon but it was one of my favorite programmes when I was younger and I still love it now. If I ever go to the Museum of Film and Photography/National Media Museum in Bradford (I still use its old name) then I have to watch an episode of Button Moon along with The Sooty Show and The Wombles.
I will also admit that I do have Button Moon on DVD so i'm sure you can see that I love it.
I decided to paint the night sky, the button moon and Mr Spoons rocket which he flies to the moon in.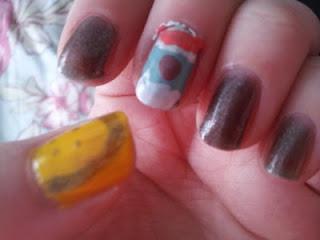 This was after I'd finished painting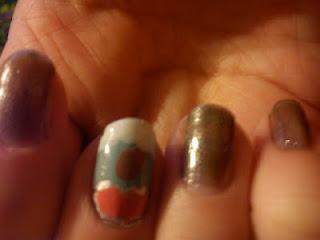 A close up of the rocket.
I don't think they've turned out too bad to say it was my first ever attempt at nail art but i'm hoping to try and do them again once i've got better at nail art so that I can possibly do a tutorial because I love reading them. There's many other nail art designs I want to try out to so i'll be investing in some more nail varnishes in different color shades.
*I'm planning on doing a giveaway when I reach 25 GFC followers or when i've reached 50 posts*