Having trouble looking for solid roofing that lasts? Try using slate. Slate has been around for more than 300 million years. They are solid, dependable and when properly cared for, can protect a home for more than 100 years.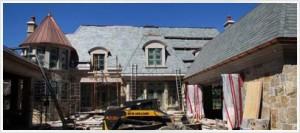 CC:Image Source
Known for its strong built, slate has been used in various homes all over the world. Over time, the process has evolved and new techniques have been adapted as well as passed on from generation to generation.
Those who are looking for reliable roofing will find slate to be one of the best. Although it is no secret that it is more expensive compared to other types of roofing material in the market, the expense is worth it thanks to the durability and longevity of the product.
For a more detailed look, here are some of the biggest benefits a slate roof has to offer homeowners.
Fireproof and Moisture Proof
Slate is made from natural stone, thus, it is very hard and will not easily give in to pressure or allow water to seep through. When attached the right away, slate offers a robust sort of umbrella that ensures no extra moisture will find its way through the roof. Meanwhile, it is also fireproof; giving homeowners peace of mind.
Cost Effective – Making it Worth the Expense
Due to its durability, going for slate is actually more cost-effective compared to using other types of materials. Since it lasts much longer, it basically pays for itself.
Beautiful to Look At
One of the primary reasons homeowners go for slate is because of its beauty. Slate roof details are spectacular to look at. They are classy and draw attention when placed on the roof. Slate is often used in old houses with classic architecture. Moreover, they go well with most materials and exude an elegant, sophisticated touch to any abode. What's more is that it comes in a range of colors and shades.
Minimal Maintenance Needed
Maintenance costs for a slate roof is very minimal since it doesn't attract mildew, mold or anything that could potentially cause it to deteriorate. It is even sturdier when paired with complementary lead roof flashing. This combination ensures a beautiful design as well as longevity.  If there is damage, heritage tiles like this can be restored and repaired by professionals. There are plenty of companies that offer reasonable prices for slate roof and tile repairs.
Environmentally Friendly Material
Finally, the biggest benefit of a slate roof is that it is great for the environment. Statistics state that about 5 percent of waste materials thrown in landfills come from roofing materials. Shingles are often replaced every 20 years or so and even if that may be a long time, it would still count as waste. On the other hand, slate can last for more than 100 years when cared for properly.
Proper consideration as well as planning should be done when considering a slate rooftop. Slate weighs a lot per square meter so it is important to ensure the building structure can accommodate this. Moreover, it should be attached by a professional only. When hiring a contractor, inquire about experience and do a bit of research. A properly done slate roof means having a reliable roof for an entire century. That's something truly worth it.
Stop wasting time searching for local professional roofers and contractors in Toronto Ontario ! Start selecting with BidsByPros.com today. Sit back and select among the best price quotes.
Featured images:
 

License: Image author owned
By Debra Wright
Debra Wright enjoys a multi-hyphenated identity. She is an online marketing specialist, writer, cat lover, and aspiring cupcake critic. Wright's articles about home improvement draws on her passion for learning and dedication to share her discoveries to others. Get updated on what she's discovering now @debrawrites…

Debra Wright