Not My Daughter by Kate Hewitt
Published by Bookouture on May 2, 2019
Genres: Women's Fiction
Pages: 330
Format: ARC, eBook
Goodreads
Buy on Amazon



Anna's hands tense on Alice and she hesitates. In that endless pause, I see all I need to know. She doesn't want to give Alice to me – not now, and not ever. And part of me doesn't even blame her…

Milly always dreamed of being a mother. Adopted herself, she has always imagined a powerful intimate connection with a child of her own. So when she and her husband Matt are told they can't have children, her dreams are shattered.

But then their loved ones offer the ultimate gift – Milly's best friend Anna and Matt's brother Jack will be donors so that Milly can carry a child and finally have a chance to be a mother. And with everyone accepting and open, Milly believes that nothing could go wrong.

Except none of the four people involved are prepared for the feelings that will threaten their most important relationships as their precious, longed-for daughter Alice grows up…

But when Alice turns four, she receives a heartbreaking diagnosis. And the four people who love her best will have to decide what it means to be a parent, and to make decisions with far-reaching and devastating consequences… for Alice, and for themselves.

A powerful, heart-breaking novel guaranteed to make you cry, for fans of Jodi Picoult, Diane Chamberlain, and Gracie's Secret.What readers are saying about Not My Daughter

'This book had me crying so badly. It broke my heart, never has any book been able to just wipe me out with such gut-wrenching sadness. A book of love, loss, and loyalty… BEAUTIFULLY DONE.' Netgalley reviewer, 5 stars

'An amazing and gut wrenching emotional story… So powerful… An emotional unforgettable book. I literally absorbed this book in one night. One beautiful written story of compelling motherly love.' Gwendalyn Books, 5 stars

'Heartbreaking… Trust me on this: this book is one you don't want to miss.' Goodreads reviewer

'The complexities of the situation are written in a truly beautiful, insightful way… Not My Daughterreally stands out in terms of… how such an emotive, raw situation can also be turned into something kind of beautiful… It was real, and brutal, and heartbreaking, but it was honest, which made it all the most devastating to read.' Goodreads reviewer, 5 stars
I loved the synopsis of this book, so when I saw it available on NetGalley and couldn't wait to ask Bookouture if I could read and review it and was pleased when I was approved.
The story behind Not My Daughter by Kate Hewitt is this:  Milly and Matthew are bummed when they discover they are having fertility problems. Because Milly was adopted, she has always dreamed of having a child of her own. As Milly is talking with her best friend, Anna about the news, without being asked at all, Anna offers to donate her eggs for IVF so that Milly can have the child of her dreams. Afterwards, Milly talks with Matt about it and then Matt goes to his brother, Jack and asks him to donate his sperm.  Everyone around becomes super excited and committed to helping Milly and Matthew with their dream of having a child.
The embryo is implanted into Milly, and Baby Alice is born prematurely. Milly has issues developing maternal instincts toward the infant. She leaves the baby with Anna and Matt and goes off to find rest, meditation and help so that she can be the mother that baby Alice needs and deserves.  When Milly feels well enough to return home, she realizes there's a lot more to deal with than she thought.
I loved the alternative points of view in the chapters — it was really nice to get insight into both Anna and Milly's perspectives of the situation. I also loved how the complexities of the situation weren't glossed over or left vague as they can be sometimes. Not My Daughter is a heart breaking emotional story of love, hope, friendship, lies and despair, must most of all, I loved the ending. 
---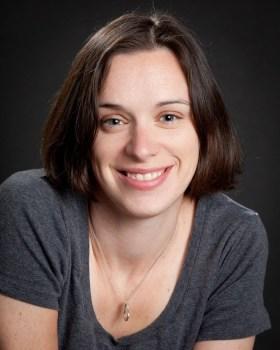 Kate is the USA Today-bestselling author of many books of women's fiction and romance. Her latest releases are A Mother's Goodbye and A Vicarage Wedding. Under the name Katharine Swartz, she is the author of the Tales from Goswell books, a series of time-slip novels set in the village of Goswell.  
She likes to read women's fiction, mystery and thrillers, and historical novels. She particularly enjoys reading about well-drawn characters and avoids high-concept plots.  Having lived in both New York City and a tiny village on the windswept northwest coast of England, she now resides in a market town in Wales with her husband, five children, and an overly affectionate Golden Retriever.
Kate loves to hear from readers—visit her ~
WEBSITE  //  FACEBOOK  //  TWITTER 
---
I was provided with a complimentary electronic advanced reader copy of this book from Boukouture through NetGalley in exchange for my post.  I was not required to post a positive review, but have chosen to do so because it was such a great book!

~ ~ ~ ~ ~ ~ ~ ~ ~ ~ ~ ~ ~ ~ ~ ~ ~ ~

It would be great if you would stay connected with me!! You can follow me on Twitter @DebiL1611, like me on Facebook at 2014 and Beyond, circle me on Google+, follow me on Tumblr, Instagram and Bloglovin', subscribe on YouTube, or connect with me on LinkedIn and Pinterest.

Please make sure to visit my homepage and subscribe to my blog for more great posts on running, fitness and lifestyle topics as well as food, product, music and book reviews, and more!