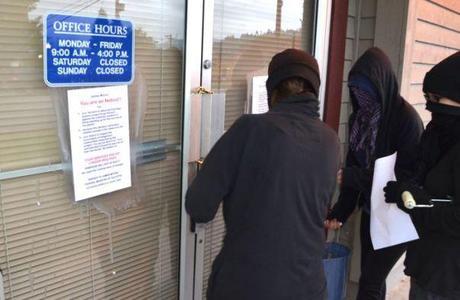 Locking the doors, June 24, 2014. Photos by Murray Bush-Flux Photos.
from The Huffington Post
Chains and padlocks greeted workers at the constituency offices of two B.C. Conservative MPs Tuesday, as opponents of the Enbridge Northern Gateway pipeline called for the politicians to "vacate their posts."
The Port Moody office of Industry Minister James Moore and the North Van office of MP Andrew Saxton were targeted by a citizens' group calling itself "Settlers on Stolen Land."
The protesters locked the doors and posted notices on the office windows that outlined three reasons for their actions:
Your decision to allow the Enbridge pipeline project to go forward against the collective wisdom of those standing up for the survival of the planet.
Your decision to further displace people in the name of profit.
Your failure to respect the sovereignty of Indigenous communities impacted by this project. You do not have Free, Prior, and Informed Consent to operate on their territories.

No means no!
Last week, the federal government gave conditional approval to Enbridge's controversial $7-billion Northern Gateway pipeline project between the Alberta oilsands and the B.C. coast.
The decision is contingent on Enbridge satisfying 209 conditions set out by a federal review panel and embarking on more consultations with affected aboriginal communities.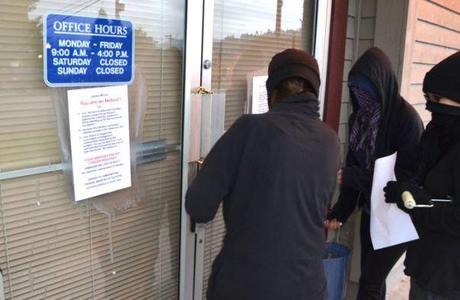 Locking the doors, June 24, 2014. Photos by Murray Bush-Flux Photos.
First Nations and pipeline opponents responded swiftly with promises of escalating opposition. The project already faces several legal challenges.
"Settlers on Stolen Land recognizes the approval of the Northern Gateway Pipeline as a clear example of environmental racism which continues the Canadian legacy of colonization," claimed the group on Tuesday. It promised to return to the MPs' offices on July 7 as part of the planned "Nations United Against Pipelines Day of Action."
The Huffington Post B.C. is waiting for a response from Saxton and Moore's offices.